Nici Wickes: Custard squares to cheer you up!
Author

Publish Date

Sat, 5 Mar 2022, 10:11am
Follow the podcast on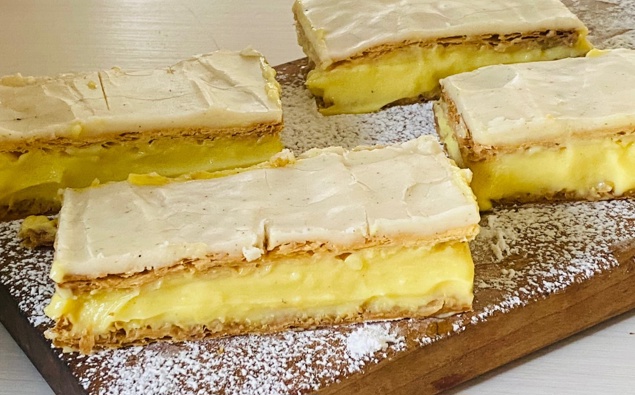 Nici Wickes: Custard squares to cheer you up!
Author

Publish Date

Sat, 5 Mar 2022, 10:11am
We all need a bit of cheering up after the week we've had so here's an absolute favourite that's worth the effort – custard slice! 
2 sheets store-bought puff pastry

 

1L full fat milk

 

75g butter, chopped

 

2 tsp vanilla extract

 

½ cup sugar

 

½ cup custard powder or corn flour

 

4 egg yolks

 

1 cup icing sugar

 

1 tsp vanilla extract

 
Preheat oven to 180 C. Line a 20-22cm tin with baking paper, allowing some to hang over the sides for easy removal later.

Roll the pastry to slighter thinner and larger than they come. Place the pastry sheets on baking trays lined with baking paper. Use a fork to prick holes all over the pastry then top the pastry sheets with another sheet of baking paper and another baking tray. Bake for 18-22 minutes or until golden brown. Allow to cool completely on wire racks before trimming to fit your tin.

Make the custard: Place 3 cups of the milk, butter, vanilla and sugar in a pot and heat until just before boiling point. While it heats, in a bowl whisk the custard powder/cornflour, remaining milk and egg yolks together until smooth. Slowly pour this mix into the hot milk, whisking as you go. Reduce heat to low to medium and continue cooking, stirring constantly, until you have a thick, glossy custard.

Place your first pastry sheet on the base of the tin, pour over the custard and top with the remaining pastry sheet. Refrigerate for 3-4 hours, or until set, before icing.

To make the icing, mix the icing sugar and vanilla together with a little hot water. Start with a tablespoon or two first, adding a little more at a time until you have the right consistency. Pour over the pastry and chill again for 1 hour.

Once set, lift out onto a chopping board and use a large serrated knife, or scissors, to slice into squares.

Eat up!
 LISTEN ABOVE