Nici Wickes: Christmas Choux Wreath
Author

Publish Date

Sat, 11 Dec 2021, 11:02am
Follow the podcast on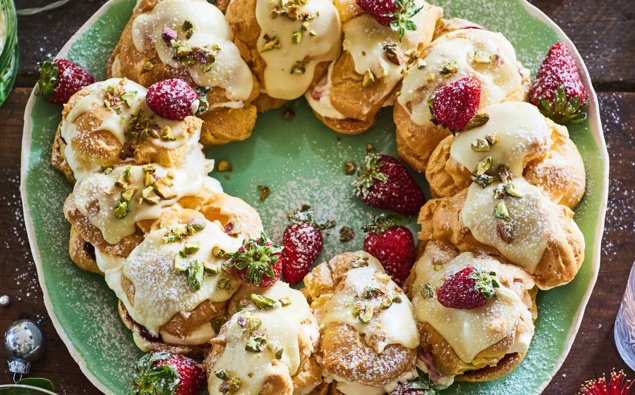 Nici Wickes: Christmas Choux Wreath
Author

Publish Date

Sat, 11 Dec 2021, 11:02am
'Tis the season to be jolly and this dessert is jolly good! A choux pastry wreath is a stunning dessert for the festive table and it is absolutely delicious.
Serves 8-12
Choux
130g chilled butter, chopped
250mls water
145g plain flour
4 large eggs (about 230g in the shell), lightly whisked
½ teaspoon sea salt
3 teaspoons sugar (optional)
150g white chocolate
¼ cup cream
4 tablespoon fruit compote, I used Barker's cherry and vanilla
Filling
300ml cream
200g mascarpone
2 teaspoons vanilla extract
2 tablespoons icing sugar + extra to dust
2 cups fresh mixed berries to serve
1. Preheat oven to 170C fan and line a baking tray with baking paper. Drawn a 25cm circle on it to use as a guide.
2. Heat the butter and water in a saucepan over medium heat for 1-2 minutes or until the butter melts and the mixture comes to the boil. Add the flour and use a wooden spoon to beat for 1-2 minutes or until the mixture comes away from side of pan. Transfer to the bowl of a standing mixer or to another bowl that you can use an electric beater in. Allow it to cool for 4-5 minutes.
3. Begin to beat and add an egg with the beaters still running. Once incorporated, add the next and so on. I beat the final egg with a fork first before drizzling it in bit by bit as you may not need all of it to get a choux pastry mixture that is thick and glossy.
4. Use a tablespoon to spoon 12 even spoonfuls within the drawn circle on your tray. I start with one at 12 o-clock, then six, then 3 and 9 and then I fill in the gaps. Using a finger moistened with water, smooth out any peaks on top of the choux mounds.
5. Bake for 45-50 minutes or until puffed and golden. Reduce the heat to 100 C fan and bake for a further 10 minutes. Turn the oven off. Leave the puffs in the oven for at least 1 hour to dry and crisp up. Cool.
6. Carefully cut the profiterole ring in half horizontally. Discard any pieces of uncooked dough from the profiterole centres. It can now be stored in an airtight container for a few days. Crisp it in a 100 C oven before filling and decorating.
7. Melt white chocolate over a gentle heat, whisking in enough cream to form a thick smooth sauce. Cool to warm. Spread each profiterole with white chocolate sauce. Chill briefly to set.
8. To fill; Dab fruit compote into each profiterole, add some fresh berries too. Beat together cream, mascarpone and icing sugar until stiff peaks form – watch you don't
over beat it. Spoon this mixture into the ring base and gently place the top ring. Dust with icing sugar.
9. To serve, pull apart each profiterole and serve with fresh berries.
LISTEN ABOVE