Nici Wickes: Chocolate and plum ripple cake
Author

Publish Date

Sat, 16 Oct 2021, 10:14am
Follow the podcast on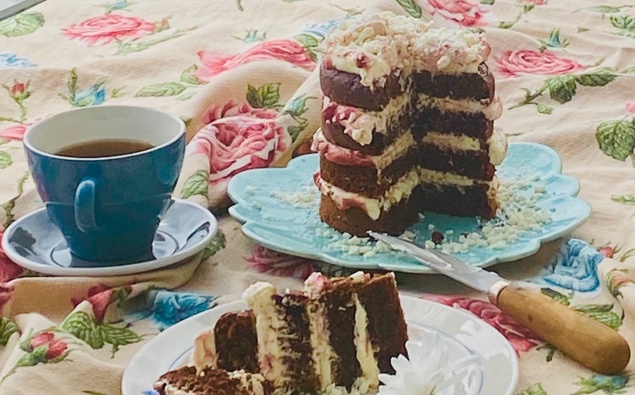 Nici Wickes: Chocolate and plum ripple cake
Author

Publish Date

Sat, 16 Oct 2021, 10:14am
Nici Wickes joins Jack Tame, bringing to the table her recipe for a delicious chocolate and plum ripple cake.
LISTEN ABOVE
A little cake for a big celebration.
Layer cakes don't have to be just for large groups of people. This small celebration cake is perfect for 2-4 people but it still screams 'show stopper'! 
Serves 2-4 
2/3 cups self-raising flour 
2 tablespoon cocoa 
¼ teaspoon baking soda 
Pinch salt 
50mls neutral cooking oil, I use grapeseed oil 
50mls natural yoghurt 
1 small egg 
1/3 cup white sugar 
1 heaped tablespoon brown sugar 
75mls strong coffee or hot water 
Filling 
300mls cream 
1 tablespoon icing sugar 
4 tablespoons plum puree (I used tinned Black Doris plums, pureed) 
70g white chocolate 
Preheat oven to 170 C fan bake. Grease and line a two 10cm springform tins.

Place all the ingredients up until the coffee or hot water in a bowl beat to just combined. Add the coffee/hot water and beat for one minute. Scrape into the prepared tin. It's quiteliquidybut don't worry.

 

Reduce oven temperature to 160 C and bake for 25-35 minutes or until a skewer comes out clean. Once cooked, allow cake to settle for 5 minutes in the tins before removing and allowing to cool completely.

If the cakes have domed up (most likely) cut to a flat top and then halve each cake through the middles so you have 4 layers in total.

Finely chop or use a food processor to break down the chocolate to a crumb.

Whip the cream with icing sugar to stiff peak stage. Gently fold in the plum puree and 2 tablespoons of the white chocolate crumb, so it's marbled throughout the cream. The trick to getting the swirls is not to overmix it.

To assemble: Layer cake with plenty of cream and finish with a shower of chocolate crumb. Chill for an hour or longer to set
LISTEN ABOVE