Nici Wickes: Chicken and egg curry that's easy on the wallet
Author

Publish Date

Sat, 14 May 2022, 9:55am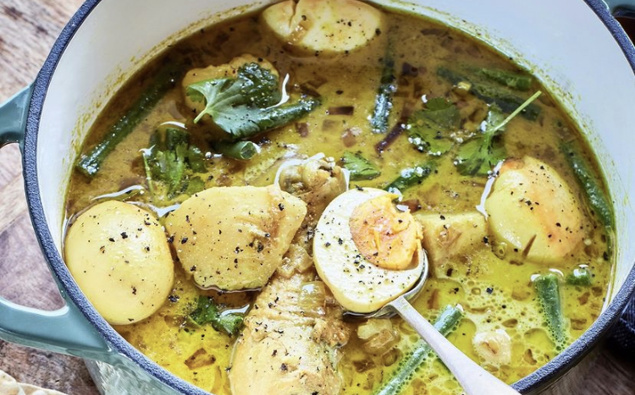 Follow the podcast on
Nici Wickes: Chicken and egg curry that's easy on the wallet
Author

Publish Date

Sat, 14 May 2022, 9:55am
Tasty, simple to make and easy on the wallet – this curry has it all!
Serves 4 for $15.54
4 boiled eggs
1 medium onion, sliced or diced
2 tablespoons cooking oil
3 tablespoons store-bought green curry paste
4 chicken drumsticks or thighs (bone in or out)
2 large potatoes, chopped into bite-sized pieces
1 teaspoon brown sugar
1 cup coconut milk
1 cup fresh or frozen chopped green beans
Cooked rice to serve
Papadoms or roti to serve (optional)
1. Boil the eggs for 5 minutes, and for easy peeling, leave for 10 minutes in cold water before peeling.
2. Gently fry onion in oil in a medium to large pot. Add curry paste and fry for 30 seconds. Push onion aside and add chicken and potatoes and fry until lightly browned. Add enough water to almost cover the chicken and potatoes, put a lid on and simmer for 20 minutes. Add sugar, peeled boiled eggs, beans and coconut milk and bring to a simmer for 10-15 minutes. Taste for seasoning and add salt to taste.
3. Serve with rice and papadoms or roti to serve.
Budget-saving tips:
· Using eggs in this curry increases the protein content without having to use more chicken ie. More satiated for less cost.
· Cooking the perfect rice cuts down on waste. Here's my method: use twice as much water to uncooked rice (2:1); salt the water well; bring to boil, stir once then leave lid on and simmer for 12 minutes and leave to stand, covered for 5 minutes.
· Leftover rice can be used for fried rice which makes another great lunch or dinner.