Nici Wickes: Caramel apple cake
Author

Publish Date

Sat, 11 Sep 2021, 10:26am
Follow the podcast on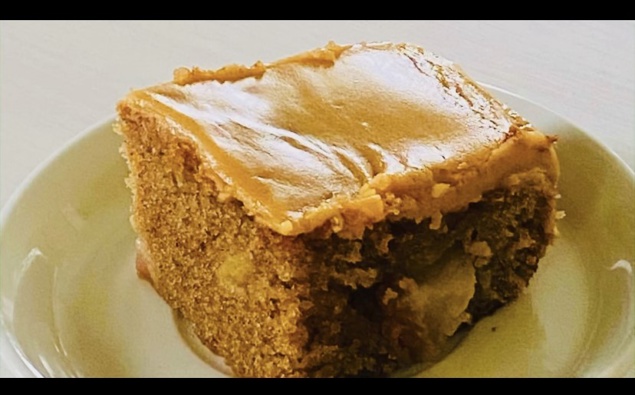 Nici Wickes: Caramel apple cake
Author

Publish Date

Sat, 11 Sep 2021, 10:26am
Caramel apple cake  
This cake has it all going for it – quick to make and bake, soft and moist, incredibly delcious with a thick caramel icing – it's like a nog soft comforting pillow!  
The recipe makes a very large sheet pan cake, enough to give away so cheer up someone's day.  
Makes 25x35 rectangle cake  
220g butter 
1 cup water  
2 cups plain flour  
1 teaspoon baking soda  
Pinch salt  
1 teaspoon cinnamon  
1 cup sugar  
1 cup brown sugar  
½ cup yoghurt or buttermilk  
2 large eggs, lightly whisked 
200g (about 2 medium) chopped apples  
Icing:  
1/3 cup sugar  
Splash water 
120g butter  
¼ cup milk  
3 cups icing sugar  
Preheat oven to 200 C. Grease and line a shallow 25x38cm rectangle tin. You could use 2 x swiss roll tins. 

In a medium pot bring the butter and water to a boil.

 

Sift in dry ingredients – flour, baking soda, salt, cinnamon and sugars – until combined. Add in yoghurt and eggs and stir to combine then fold in the chopped apples. 

 

Pour batter into the prepared tin spreading it into the corners. Bake for 17-20 minutes, or until it springs back to the touch. Cool for 10 minutes then ice while warm.

 

For the icing: in a small pot make a caramel by heating, without stirring, the sugar and a splash of water until it simmers rapidly then turns a golden brown colour – about 5-7 minutes. Swirl the pot, don't stir it. Once it is dark golden remove from the heat and add the butter and milk, careful as it will spit! You can stir it now. Cool it slightly. (if it solidifes, mix in some more milk and warm it slightly) Heap icing sugar into a large bowl and add the caramel sauce and stir to a smooth, pourable icing. 

 

Pour icing over warm cake and leave to set.   

 
 LISTEN ABOVE