Mike Yardley: Nature's beauty in Taranaki
Author

Publish Date

Sat, 1 May 2021, 12:48PM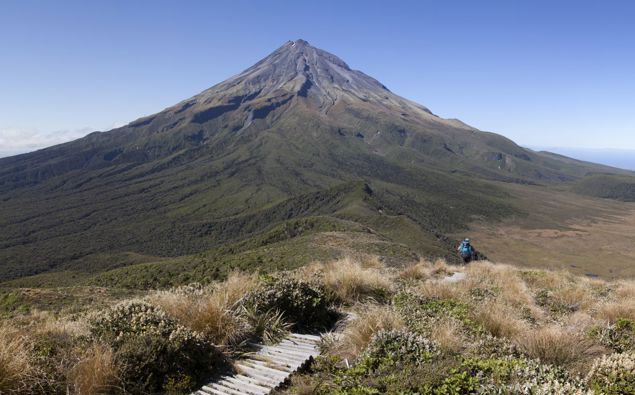 Mike Yardley: Nature's beauty in Taranaki
Author

Publish Date

Sat, 1 May 2021, 12:48PM
Richly blessed with world-beating nature trails, my first dose of outdoorsy soft adventure was on New Plymouth's universally feted Coastal Walkway, the envy of many a New Zealand town. It was the perfect balmy autumn's evening, and the shoreline trail was a hot ticket, with hundreds of folk lustily embracing a twilight stroll, as the slanting light of day's end gilds the shoreline.
The award-winning path which skims the Tasman Sea for 13km, not only offers celestial coastal vistas and world-class surf breaks, but is crowned with some compellingly large works of art. Keep walking north of the city to encounter the dramatic wave-like Te Rewa Rewa Bridge (freshly repainted), while Len Lye's iconic breeze-bending kinetic sculpture, the Wind Wand, remains a much-adored city landmark.
A botanical oasis at any time of year is the time-honoured sanctuary of Pukekura Park. Previously, I've savoured the city's annual illuminated extravaganza, the TSB Festival of Lights, which transforms the park into a spangled wonderland. Transcending the summer holidays, Pukekura Park comes alive after dark with theatrical lighting installations and ingenious artworks.
But regardless of the time of year, this inner-city paradise boasts exquisitely landscaped gardens, the lustrous Fountain Lake and a staggering variety of native and exotic plant collections. Change it up with an anecdote-rich guided tour to ensure you don't miss the park's star specimens and hidden gems, like the 2000 year old Puriri tree, the oldest hospital still standing in New Zealand, and a major film location for Tom Cruise's The Last Samurai.
Ever since our pioneering days, Taranaki has been nicknamed the Garden of New Zealand and I revelled in some of the region's botanical stars, including Tūpare. Nearly 80 years old, the restored Chapman-Taylor Arts & Crafts homestead and garden is a stately sight to behold. Sculpted from a hillside overlooking the Waiwhakaiho River, walk the winding paths cut into the hillside for sigh-inducing vistas and intimate garden rooms.
Grand coniferous trees such as dawn redwoods, kauri, rimu and giant redwoods set the framework for the garden. They are supported by beautiful deciduous specimens such as the dove trees, tulip trees and liquidambars – the autumn show at Tūpare is very special. Smaller trees, typically maples and magnolias, are favoured alongside rhododendrons, camellias, azaleas and hydrangeas, all carefully planted by Sir Russell Matthews in 1932.
Further afield, in the shadow of Taranaki Maunga, Hollard Gardens is a botanical bucket-lister, a Garden of National Significance that was established in 1927 by Bernie and Rose Hollard, now in public ownership. Bernie believed that the best plants were the ones worth waiting for. The plant that he bred and was well known for was the Rhododendron Kaponga which took 12 years to flower.
The gardens remain an abiding legacy of almost a lifetime of tireless work by a private individual. It is a quintessential woodland garden, a joy to leisurely free-roam. Head gardener, Shannon, led me around its finest features, from the mature and intimate Old Garden to the buzzing diversity of the New Gardens. Hollard has recently been accentuated by the wonderfully popular family corner, complete with playground, free barbeques and kitchenette.
Just east of Eltham, I ventured to the barnstorming conservation success story at Lake Rotokare. Home to the Lake Rotokare Scenic Reserve, this sublime 230 hectare predator-free environment is a cradle of native and endangered flora and fauna. It is the largest lake and wetland protected by a ring fence, which was constructed in 2008. (Rotokare translates as "rippling water.") Alongside the
8km long fence, their pest-trapping programme has eradicated 12 million mammals, allowing 9 threatened species to be reintroduced to the sanctuary.
They include the North Island brown kiwi, North Island saddleback, North Island robin and the Hihi/Stitchbird. The kiwi reintroduction project began in 2012 and has boomed, with over 250 kiwi born within the sanctuary. After 150 years of regional extinction, the saddleback has been a staggering success story – they've stopped counting them given the population boom. One of New Zealand's rarest forest birds, the hihi/stitchbird has also benefited from a bumper breeding programme, after being translocated from Tiritiri Matangi, 4 years ago. Hihi means "ray of sunshine."
They are curious, characterful birds and the males sport a distinctive black and yellow plumage. Hurricanes supporters, perhaps? Hihi are big posers, with their tails tilting up. They hold the world record among song birds for the number of illegitimate young and they are the only known bird to copulate face-to-face. Who knew?
I marvelled over these extroverted birds, amid the menagerie of New Zealand bird life fluttering in the trees on some soothing forest walks at Lake Rotokare, a meditation in green. The Loop Track is wheelchair friendly, with boardwalks extending through the swamp forest, while the Ridge Walk traces the predator-proof fence affording serene lake views, before linking up with the Loop Track. Visit at night to hear the call of the Kiwi, open 24/7. It's a Taranaki treasure. www.rotokare.org.nz
Calling into the heart of Stratford, which takes its name from William Shakespeare's birthplace, the 1pm performance of the glockenspiel clock tower was purring into life, with mechanical characters performing excerpts from Romeo & Juliet. A curious crowd of on-lookers were as transfixed as me on the mock-Tudor clock tower. I followed the Stratford Heritage Walkway which weaves together a stack of landmarks and curiosities, like the majestic Kings Theatre, which showed the first talking pictures in the Southern Hemisphere in 1925.
You'll also notice that many street names and parks are dedicated to the Bard's plays and characters. I also popped into the Percy Thomson gallery, a stupendous public art gallery, which was made possible by the bequest left by the former Stratford mayor in his will. Hosting a diverse programme of touring exhibitions and beautiful works by local artists, it's a stimulating venue, complemented by the adjoining art shop where you can buy a revolving selection of new work from Taranaki artists.
As the gateway to Taranaki Maunga, I was eager to surrender to some elemental mountain time. My lodging for the night was the Ngāti Ruanui Stratford Mountain House, a romantic escape-hatch, nestled on the slopes of the maunga, wrapped in the forested finery of Te Papakura o Taranaki/Egmont National Park. Owned by Ngāti Ruanui, and delightfully managed by Peter and Alie Mischefski, it was a thrill to spend a night in this alpine getaway, suspended in isolated beauty. Profits from the Mountain House contribute to the health, wellbeing, and support of the Ngati Ruanui people. Whether you're staying in-house or not, the award-winning dining is not to be missed.
For dinner, you can't go wrong with Mountain House Scotch Fillet; Taranaki Coastal grass-fed beef on a bed of braised seasonal vegetables. Dessert? How could say no to their Baked Alaska? A Gingerbread-based baked alaska topped with caramelised pear, fig and ginger ice-cream and toasted meringue. Bliss. Comprising a swag of chalets, accommodations are beautifully appointed and blissfully comfortable, equipped with tea making facilities, television and en-suites with a spa bath. Truth be told, I flicked off the television to immerse myself in the serenading birdlife, before the star-flecked night sky stirred my imagination. It's a legendary boutique alpine retreat, proudly underpinned by extremely affordable rates. www.stratfordmountainhouse.co.nz
From the Ngāti Ruanui Stratford Mountain House, the road winds its way for 3km before ending at The Plateau car park, a glorified balcony perch across the compelling countryside. At an elevation 1172m above sea level, I ventured there at the crack of dawn to enjoy the first kiss of sunlight, gilding the maunga's peak. If you're up for a leg-stretcher, the Manganui Gorge and Pātea tracks are both very manageable walks on the eastern slopes. Further afield, Dawson Falls and the Goblin Forest are family-favourites.
For the extra-intrepid, the Pouakai Circuit is an enthralling 2-3 day tramping track. If you're time-poor, take the one-day distilled version is the Pouakai Crossing, an 8 hour wilderness adventure, up and across the mountain. You'll traverse open golden tussock, sub-alpine cedar forests, the Ahukawakawa Swamp, and be spoiled with catch-your-breath vistas of the coast and ring plain. But the biggest scenic frisson waits you at the Pouakai Tarns, serving up mirror reflections of the mighty cone-shaped peak.
Even though it's a mountain walk, the Pouakai Crossing is like the little sister of the Tongariro Crossing. A moderate level of fitness will see you through, with a memory stick full of magical encounters. And it's a spell-binding spot to watch the setting sun over the mighty mountain. https://www.taranaki.co.nz/like-no-other/visit/everything-to-see-and-do/
I hired an Avis rental car to free-roam Taranaki. The Avis Safety Pledge allows customers to pick up and drop off vehicles with minimal contact. This has been complemented with the Digital Check In option, dramatically speeding-up time at the counter. To travel with complete flexibility, select the Pay at Counter option, which includes free modifications or cancellations at any time. Or, you can select the Pay Now option, and receive a saving for paying in advance. Until 1 July 2021, you can also cancel for free on Pay Now Rentals if you cancel at least 24 hours in advance of rental collection. www.avis.co.nz
I flew to Wellington with Jetstar for my lower North Island roadie. Score even sweeter deals with a Club Jetstar membership. The programme offers travellers access to special 'member only' fares, 20% discount on baggage and seat selection products, and early access to the biggest sales. Bag a bargain fare deal and seat to suit at www.jetstar.co.nz
Mike Yardley is our resident traveller on Jack Tame Saturday Mornings.
LISTEN ABOVE