Jack Tame: Sprint lunge sweat - Squash at the Comm Games
Author

Publish Date

Sat, 6 Aug 2022, 9:43am
Follow the podcast on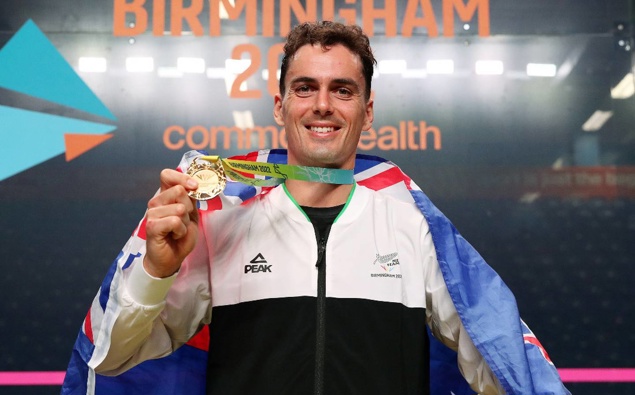 Jack Tame: Sprint lunge sweat - Squash at the Comm Games
Author

Publish Date

Sat, 6 Aug 2022, 9:43am
Sprint. Lunge. Sweat.
It was entirely predictable, of course. Guy Heveldt nailed it on 1News last night.
Every time it rolls round, he said, we always insist we don't like the Commonwealth Games.
'They're a relic! They're outdated! Who wants to see us whip Rwanda in the Badminton, anyway?'
But then, in the midst of a tough winter, with Covid knocking us about and all sorts of economic pressures, all it takes is a few medals in a few off-Broadway sports and we're right onboard with the Commonwealth Games. They're like a chilled-out Olympics where we win more. What's not to love?!
But of all the Commonwealth sports, there's one in particular I've loved watching this week.
Sprint. Lunge. Sweat.
It does what a great individual sport should do. First of all, it's mostly rational. It's simple. It's the kind of sport that kids could invent in the playground. You can explain the fundamental rules in about 25 seconds and if you haven't seen a match since the last Commonwealth Games, no drama! You'll pick it up in no time.
Sprint. Lunge. Sweat.
Secondly, it blends raw athleticism and short twitch power with endurance, and technical skills. You can't just be fast. You've gotta' be able to last. You can't just have endurance. You've gotta' be super quick. You can't just be fit, you've gotta' have incredible hand-eye coordination, creativity, and flair.
Sprint. Lunge. Sweat.
Finally, it's a sport that attracts players from a diverse range of countries. If you consider the top five players in the World Rankings, for each of the men's and women's games, there are players from Egypt, the U.S, England, Peru, and New Zealand. Five continents.
Sprint. Lunge. Sweat.
It just seems so obvious to me. And sure, maybe it's because I'm a weekend battler with secret athletic ambitions. But I reckon there's something in it for everyone. Forget surfing and E-Sports, squash needs to be at the Olympics!
Think about it. A glass court only costs a couple of hundred grand so it's a lot cheaper than a velodrome. And it's so versatile. In Egypt each year, they set up courts in front of the great Pyramid of Giza. You could do that anywhere. Imagine watching Olympic squash on Copacabana Beach or next to Shibuya Crossing. What a spectacle!
LISTEN ABOVE
Sprint. Lunge. Sweat.
For me, the highlight of these Commonwealth Games was seeing Paul Coll vanquish his demons of four years ago. The Greymouth whiz sprinted. He lunged. He sweated. He gasped. He yelled. He smeared his greasy palm down the back wall to try and get a better grip on his racquet. He trailed. He led. He dived. He sprinted. He lunged. He sweated. He endured. And ultimately, he triumphed.
Knowing that unlike athletes in many other sports, the squash players won't have the opportunity to compete at an Olympics, made New Zealand's squash success that much more special.
The Commonwealth Games don't matter, you reckon? No one told Paul Coll.