Mike's Minute: 10 years on, Christchurch deserves better from its rebuild
Author

Publish Date

Mon, 22 Feb 2021, 10:19AM
Follow the podcast on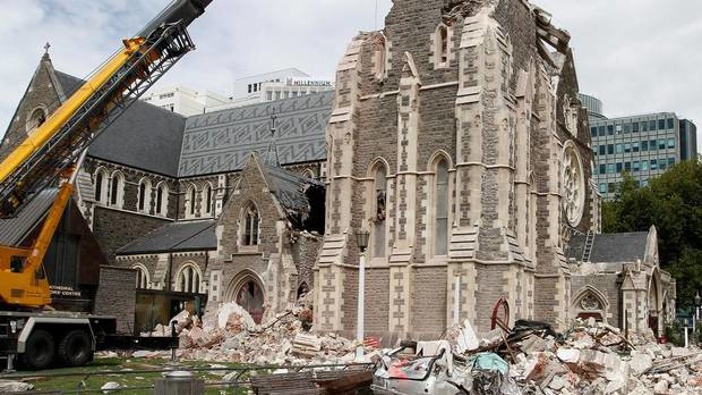 Mike's Minute: 10 years on, Christchurch deserves better from its rebuild
Author

Publish Date

Mon, 22 Feb 2021, 10:19AM
I was in a hotel in Auckland, I had given an address at a conference.
12.51pm, phones went off. The attention of the room was diverted, the event was off, and we all had to be elsewhere.
The Christchurch quake had happened.
10 years ago today, we remember.
I've always thought it was an odd business remembering things at certain stages. 10 is a big deal for no other reason than it's a round number. It's not more or less important than four or eight, except for the fact we've decided it is.
We went to Christchurch, broadcast this show from a motel room where the walls had been covered in mattresses to sort the sound out. It was emotional for me given Christchurch is my hometown, and the part I had spent a decent chunk of my childhood, the east, was the bit that got hit the worst.
It wasn't obviously as bad as living through it, but your hometown is your hometown and there is nothing like an earthquake to remind you of the fragility of infrastructure, far less life.
My sister-in-law had literally just moved south, bought a couple of business bought a house, all of it was gone.
For me anyway that's a marker in time, I remember her shock, I see her now.
Does 10 years seem like a long time ago? Well yes, and no. She, for example, has recovered completely. They've moved on they're doing brilliantly. So, in that sense it seems a lifetime ago. A mate of mind owned a café. It was totalled, he's moved on. New career, new life.
But then I went to Christchurch over Christmas, and what hadn't been done in a decade shocked me.
Yes, the market in Cashel Mall is great, the precincts like justice, the library, and the law courts, it's everything you'd expect in a city, given the chance to rebuild.
But my God the fact the cathedral is still in the state it's in, is little short of a crime.
I was shocked that every pile of rubble downtown had been commandeered by Wilsons and turned into a carpark. Pop out the other side of the square heading towards Linwood and it's like no one has visited the place in years. Big bits of barren land. House, gap, house, gap.  
There is so much more to do.
Some of it you'd expect. Infrastructure is big, long, and expensive. But some of it should have been done. There has been too much procrastinating. The stadium is another classic example, it's not ready for years, that's unforgivable.
As much as today will be about remembering, let some of it be about looking forward, let some of it be about hope, progress, determination, getting those gaps filled, decisions made, and the future built.
Let Christchurch be all it can, should, and deserves to be.
Take your Radio, Podcasts and Music with you