Mike Yardley: Prince Philip's funeral had power in its intimacy
Author

Publish Date

Mon, 19 Apr 2021, 3:58PM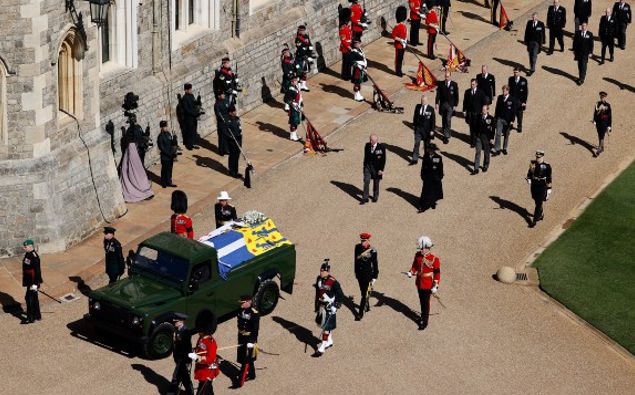 Mike Yardley: Prince Philip's funeral had power in its intimacy
Author

Publish Date

Mon, 19 Apr 2021, 3:58PM
The starring role at yesterday's royal funeral was that bespoke Landrover Defender, sporting a fresh coat of military green paint, custom built as a hearse. Prince Philip tinkered and toiled on this secret project for 16 years, knowing he would never live to see it used for its intended purpose. To carry his own coffin. How's that for dedication to the job?
Despite his funeral plans having to be pared back to comply with the Covid constraints, Windsor Castle still turned on a wondrous, dignified pageant.
The fact that the entire affair could be staged with such flair, within the confines of the castle walls added to the occasion.
Frankly, streets lined with waving and wailing crowds, as we have seen in past royal funerals, is all about mawkish. Holding it in-house packed a more solemn but graceful punch. There was power in its intimacy.
I've been reading a few witterings from the army of body language experts who have been pouring over the body dynamics of the mourners, like a crass mass-autopsy. They're just trafficking in guess-work of course.
But I suspect we were all struck how overcome with grief, how anguished Prince Charles appeared to be.
The chit-chat between Harry and William is being hailed as a turning point in the great rift. Perhaps Kate Middleton should be nominated for the Nobel Prize. The apparent peacemaker in chief.
No one was the poorer for pregnant Meghan's non-attendance. Yesterday's stately and dutiful show of respect at Windsor, merely underscores what a tacky, venal and self-indulgent disaster it was for H and M to spill their guts to Oprah. The nicknames Preach and Leach will stick for some time.
But back to yesterday. It was the spectacle of a socially distanced Queen, stoic and solitary in her wood-carved stall, head bowed and grieving - that is the searing memory. Our Head of State laying her husband to rest. An historic day, discharged with restraint and dignity.