Mike Yardley: Delusional climate doom merchants are damaging our tourism industry
Author

Publish Date

Fri, 11 Dec 2020, 9:59AM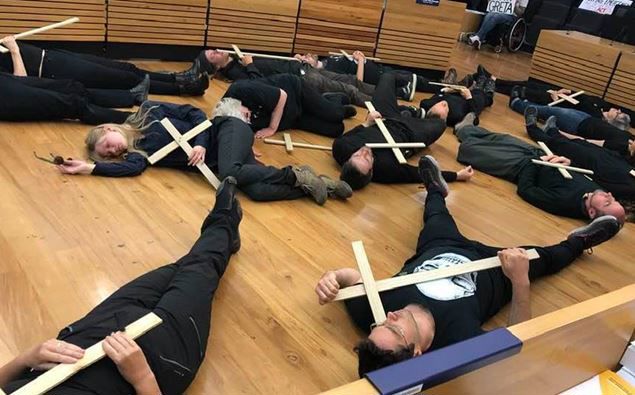 Mike Yardley: Delusional climate doom merchants are damaging our tourism industry
Author

Publish Date

Fri, 11 Dec 2020, 9:59AM
You may have noticed that Greta's New Zealand brethren are taking aim at Tarras Airport. This is the long-range proposal to solve the inevitable capacity problems servicing Central Otago's air traffic needs.
This week, Schools Strike for Climate laid it on the line at the Central Otago District Council. Councillors were warned, that to support this airport project would be quite "an act of evil." One snotty student barked, "It has been left to my generation to lecture people in power on their foolish and selfish plans."
Last week, it was Extinction Rebellion's turn. They staged a mass die-in on the debating chamber floor of the Christchurch Council, collapsing and writhing on the floor, like they did a few weeks earlier, dressed up as bumble bees choking on gly-pho-sate. Grown adults, turning council meetings into kindergarten floor shows. Now this crowd of doom merchants is demanding the end of global air travel. And they are delusional.
International tourism, in time, will resume, rebound and remain a major foreign-exchange earner for New Zealand. And Stuart Nash is right our brand should be pitched at the high-value visitor. But Queenstown Airport's future doesn't look bright. The capacity constraints cannot be solved on the land that the airport sits on. They've tried three times. It's hemmed in. And the airport is sitting on a real estate goldmine for the Queenstown council coffers. The value of that land would generate revenue far beyond the return they pocket from their airport company shareholding.
Which is why I'm on board the vision for Tarras Airport, not just to service Queenstown, but Wanaka, Cromwell and beyond. It's a regional solution through a national lens. Investing in the future for the lower South Island. A purpose-built international airport for the 2030s, when new aircraft and new fuels will play a key role in powering a more sustainable aviation future. Queenstown Airport is safe for now. Probably a decade, at least.  No on is expecting action anytime soon across those quiet Tarras fields. But this long-term vision is a sound one. To demonise it as an act of evil is the typical melodramatic end-of-days drivel Greta inspires.