Mike Hosking: US border drama shows Trump may have had a point
Author

Publish Date

Thu, 25 Mar 2021, 4:48PM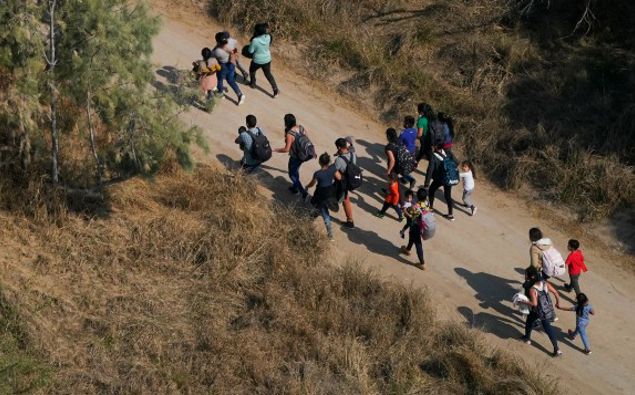 Mike Hosking: US border drama shows Trump may have had a point
Author

Publish Date

Thu, 25 Mar 2021, 4:48PM
So what would you rather have: a wall, or the mess they've currently got on the border in America?
They've tossed $86 million at the problem in the last couple of days - that's for the motel bills to house the illegal crossers.
This followed the roll out for what passes as border policy: please don't come. That was it. Biden appealing to people not to come, don't bring your kids, don't sneak in.
Now there is no shortage of coverage of this after all you can't ignore a que of thousands.
But what there isn't is outrage or at least no coverage of it.
The republicans in places like Texas are trying their best at an "I told you so" argument. But the broader media is amazingly, or perhaps not so amazingly compliant, when it comes to what is a disaster.
Say what you want about Trump, but his wall and its mass mocking was in fact acting in the way it was supposed to.
People weren't queuing the way they are now. And why are they flooding across? Because they now they can.
Because they know that when a President asks you not to come, that means they don't have a plan or any means to stop it and so the mess will only get worse.
This mess was of course the mess they had four years ago under Obama.  The mess Trump at least in part addressed with his famed wall.
'The wall' never got completed and no what bits did get built weren't paid for by Mexico and that was always the trouble with Trump. He had the knack of taking a seed of an idea and pimping it up to the point of absurdity, thus leaving him open to ridicule.
But what you can't argue against is 'the wall' or what bits they built along with a bolstered border force actually had an effect. And the basic premise Trump sold it on - that a country must have borders or else it isn't a country – is in fact sound.
So $86 million and counting and the lies have already started.
Nancy Pelosi says things are under control. Pictures would tell you otherwise, as would the $86 million.
It's this delusion that gives rise to the likes of Trump and builds their support. It's this approach that allows the opposition to form.
You would have thought the Democrats might have developed some sort of plan in the four years they spent bagging the previous president.
Barely two months in, it's like the last four years never happened