Mike Hosking: Unlawful Ihumātao deal stunk from the start
Author

Publish Date

Tue, 27 Apr 2021, 7:41pm
Follow the podcast on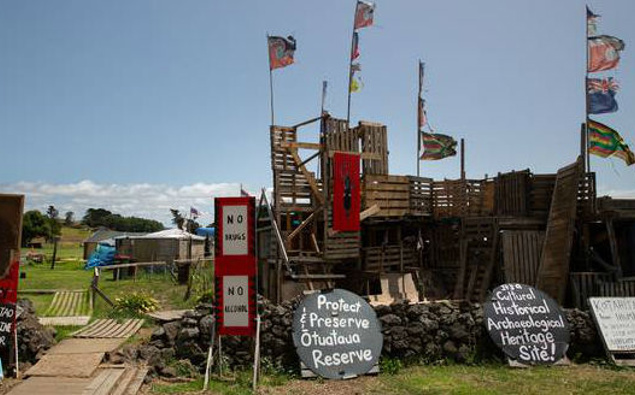 Mike Hosking: Unlawful Ihumātao deal stunk from the start
Author

Publish Date

Tue, 27 Apr 2021, 7:41pm
The talent I admire among many a politician, but particularly this current lot, is the ability to spout complete crap and do it with a straight face.
It doesn't get a lot clearer than an Auditor-General telling you your Ihumātao deal is unlawful.
Something is either lawful or it isn't. Turns out Ihumātao wasn't, but that didn't stop the government pretending illegality wasn't really a big deal.
It was a technicality. Of course it was, easily solved. Sort of like taking something from a shop without paying isn't theft, it's a technicality.
When you're caught you go back put the item back, apologise, offer to pay for it, say you'll never do it again – see, easy, a technicality.
They figured that the money taken from housing was sort of going to housing anyway, so if a house got built, did it really matter where it was?
The fact they had no idea whether any houses would be built shouldn't diminish from the simple misunderstanding between a technicality and illegality: after all, both words end in "y".
You knew this stunk right from the start. You knew something was up from the very day the poor old PM who couldn't help herself waded in and told Fletchers to stop building until something got sorted.
That something took an age as it was always going to, because the Ardern  wade in was in fact an over reach, and once she had spouted off, everyone else had to scramble to try and work out what the hell to do without turning it into an almighty Treaty free-for-all.
That's why they slipped it out just before Christmas. We'd all gone on holiday and we'd forget about it by February.
Except, of course, until it turned out to be a stitch up, and the Auditor-General ran the ruler over it.
The weird thing for me was they knew it was a mess from day one and yet, knowing that, clearly not once did anyone go and get some legal advice.
No one even clearly thought about asking the question: why not?
You're either startlingly arrogant or thick or quite possibly in this case both, that you can stitch up something as shonky as this, not ask a single legal mind a single question, slip it out at Christmas, and then assume nothing is going to come back to bite you.
Add it to the list of stuff they've cocked up and we've paid for. If National and ACT are taking notes, they're going to have an astonishing list set to go by 2023.