Mike Hosking: The Warriors' latest win shows this is our year
Author

Publish Date

Mon, 3 May 2021, 11:00AM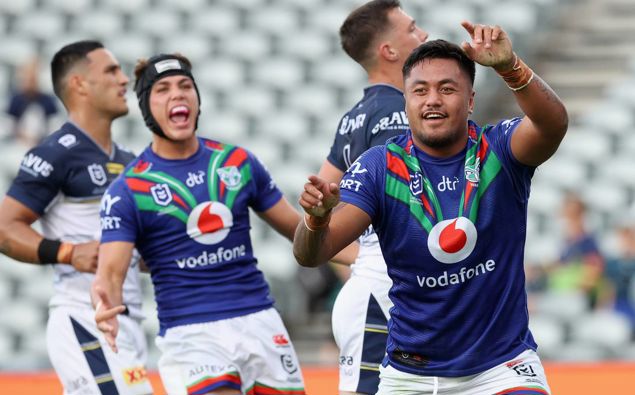 Mike Hosking: The Warriors' latest win shows this is our year
Author

Publish Date

Mon, 3 May 2021, 11:00AM
Here is all you need to know: The Warriors are 7th, in the top 8. From 12th to 7th. This is our year!
The game was not what it should have been. The Cowboys are a solid side. We entered the match on the same points.
But first half looked a league above them - 24-6 at half time.
Completed our sets. Reece Walsh looks the find of the season. We were slick, there were few if any mistakes, and although you never get ahead of yourself, the game was over.
And yet, it wasn't.
Second half, we were ordinary, and ordinary is a compliment.
To be fair, the North Queensland Cowboys got their act together, and given we were of equal points status going in, they should never have been dismissed.
But all the stuff like completed sets and lack of errors that made us look good in the first half made us look hopeless  in the second.
I don't know if it was complacency or bad luck or a bit of both, but we scored nothing in the second half – nothing! We didn't even get close to the line.
Most of the half was in our territory, we looked to survive, and at 24-20, obviously we did.
But a win is a win, and here's where we sit.
We lost last week to Melbourne and you can be forgiven for that given, one, Melbourne are good, and two, we had injuries galore.
The week before, we beat the Dragons and that's the win to focus on. We can beat the best.
Our first half yesterday as Greg Alexander said was our best all season, so between the Dragons win and the first half yesterday, not to mention the actual win, if we get it together we are right there, as good as any, and able to beat the any side any day and never forget the prospect of the team.
Coming home and playing at Mt Smart, that's a bonus, but also the reality check: that all this success, so far, is being done away from home.
Nathan Brown might be the difference. Reece Walsh, if he can stop falling over, is a brilliant talent. The injuries are coming right. And we are in the top 8!
Come on, what more do you need to start the week on a high note? This is our year.