Mike Hosking: Ardern could learn a lot from aspirational Gladys Berejiklian
Author

Publish Date

Mon, 10 May 2021, 3:42pm
Follow the podcast on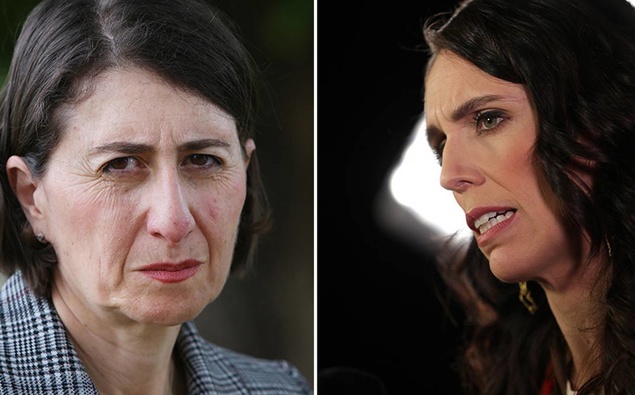 Mike Hosking: Ardern could learn a lot from aspirational Gladys Berejiklian
Author

Publish Date

Mon, 10 May 2021, 3:42pm
I wasn't remotely surprised to see Gladys Berejiklian describe our bubble reaction to NSW as an overreaction.
I asked Ashley Bloomfield on Friday of course if he was a bit trigger happy and even he said it was a line call.
But no one is more conservative than Ashley, hence we are so backward on things like borders and vaccines and PPE and testing and border security.
Berejiklian is Australia's most successful premier. Her state is the best economic performer, she is popular, and she has led far and away Australia's most successful Covid response.
The Ardern like control freaks in places like Queensland, Victoria, and Western Australia have been caught out the same way we have.
Locking things up isn't hard, but it's been Victoria and WA that have had the most problems.
New South Wales have had very few. The Northern Beaches outbreak was handled well, and this current outbreak is hardly the pending disaster a bubble pause would indicate it is.
Like so much of this stuff, there is too much politics at play.
The government will never admit it, but they're not keen on the bubble. That's why they dragged their heels.
That's why Australia opened to us last year and we took till a month or so ago to respond.
Any chance to say I told you so, inconvenience some people and kill the buzz they're all over.
The end of Covid is in many respects the end of this government. They've succeeded through fear. When the fear goes the borders open and we turn our attention back to the shambles their governance has produced, they're done for.
This is why Gladys shines. She's aspirational, she doesn't panic, New South Wales doesn't lockdown at the drop of a hat or a single case.
They can and do track and trace, their record is not just the best but they're proud of it.
There is no reason to freak out our side of the Tasman if they're not freaking out on theirs.
She is right, it was an overreaction, because she is a better leader, and handles these things with more aplomb.
As we have said before, between the lax vaccine roll out, the pay freeze, the Australian economy quote unquote from Macquarie "leading the world", and a little aspiration from Berejiklian, the big red land to the left is increasingly a temptation.
When the migration numbers start backing that view up, don't say all the warning signs weren't there.