Mike Hosking: I now have faith in the Warriors
Author

Section

Publish Date

Monday, 20 May 2019, 10:52AM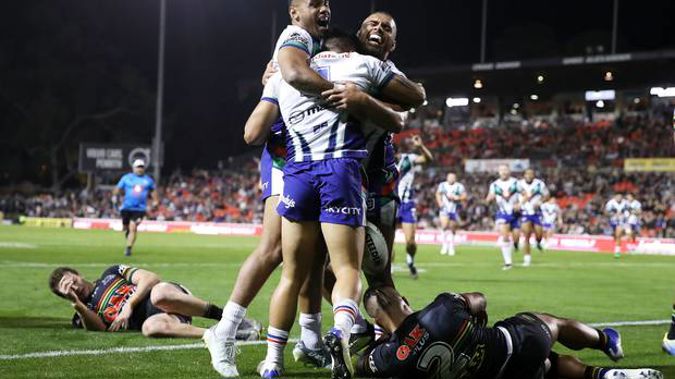 Hard to believe it took until the middle of May but here we are with the joy of being able to start the new week with two, count 'em two, Warriors reviews in a row.
Is this the start of something big? I am hoping so. The win over the Panthers was the sort of win you need when your season hasn't been what you might have wanted it to be. There are sides you simply have to beat, and sides below you on the table are those sort of sides.
Yes, the elephant in the room is that the Panthers have even more issues than the Warriors, and so we should have won. But many a game in the NRL has been played where the expectation and the result are two completely different things.
Issac Luke, who was going to play reserve grade until the last minute, played like he should be playing, can play and has played. So hopefully the hiccup in the road to consistency has been sorted.
Roger Tuivasa-Sheck was everything you might have expected, as usual. But the really exciting news was Kodi Nikorima, who looks like a bloke who's been there for a couple of seasons, not a couple of games. The try was as good as any and looked remarkably like Shaun Johnson did when he was on his game. If that continues we are off and running.
That's before you get to the bit where he looks organised and settled with Green. That combination might go on to provide a series of highlights we'll talk about for the rest of the year.
If they could just sort Blair out, which is one of the great shames of the season so far, this year might actually get a bit of traction.
As Stephen Kearney says it wasn't perfect, but when you play ordinary sides it rarely is. But there is plenty there these past two weeks, confidence being a bit part of that, to sense that the Broncos this week are no longer the hurdle they could have been if things hadn't turned around the way they have.
The key to all of this is faith, and last year as always, it was easy to get on board the train of success given the start they had. Winning is always easy to support.
But too many have written the side off too soon this year, which as far as I can work out is a sign that we lack a maturity that you see offshore in places like the EPL, NFL, and NBA, whereby great seasons are mixed with ordinary seasons, and that is part of the journey.
And the good news is this season has enough weeks to go, we have enough points, and we're building to still be genuine contenders for playoff football.
And here's the further good news, when we make the playoffs, and we reflect on how it started and how it ended, it'll be that much more rewarding won't it?
So yes indeed this is still our year.