Mike Hosking: Trump's State of the Union was world class
Author

Section

Publish Date

Thursday, 7 February 2019, 9:53AM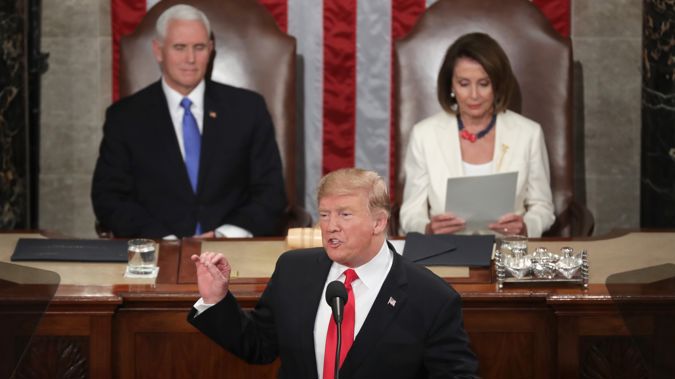 Call me a train spotting nerd if you like, but yes, I watched the State of the Union and I loved it. 
I watch all State of the Unions, and Trump can never be a Reagan, or Clinton, or Obama, in terms of oratory skill, but yesterday was his best day in a very long time, if not ever. 
It was long, a bit over an hour and 20 minutes. Last year's was the third longest in history, so this year's, which was longer, must now be the second longest. 
Obama and Clinton were fans of the long form, they averaged about an hour each over their tenure. But if you go back to Carter, Nixon, and Ford they rarely went over 30 minutes, and never longer than 45. 
It might have something to do with Reagan's stroke of genius in introducing guests with moving stories, and yesterday's line up was stellar. We had war heroes, space heroes, cancer survivors, and shooting survivors. He had lined up the quintessential American heroes and worked them brilliantly into a speech that was broadly about choosing greatness. 
He backed it all up with statistics, the stuff he'd done that you can't argue with.  More African Americans in jobs than at any time in history, more women, more Asian migrants, more Hispanic migrants, wages at historic highs, and the economy that's the envy of the world. He talked of great countries not fighting endless wars, it makes sense. 
Fault him all you want for style and approach, but on things like his stance on wars, he's been ramrod consistent. NATO pays more than they ever have, North Korea isn't the issue it was, and the second summit's timing was announced as part of the speech. 
Yes, he got onto the wall, and yes he touched on the investigations into him.  But there was humour, they sang Happy Birthday to one of the guests, he got the Democrats standing and clapping, he was, at times, self-deprecating and funny. 
And in a stroke of genius, he declared America would never be a socialist country, having outlined Venezuela as an example. The brilliance of it was half the Democrats didn't know what to do, given so many of them dream of being a socialist country.  So half stood and clapped, half didn't, and in that, gave themselves away. 
He talked of the fight against AIDs, of late-term abortion, he chastised the Virginia Governor and extolled the virtues of scientific advancements. 
He painted a picture of America the way Reagan did. He didn't call it the "Shining City on the Hill," but the message was the same. 
They were chanting "USA, USA, USA!" He made his point, he offered hope and sold his country the way Americans love it sold, as the greatest thing on God's earth. 
At a time when he's lost the midterms in the House, there's an industry of investigations into him, and another shut down looming, he needed a good day. 
If you watched with an open mind, you could not help but conclude he hit it out of the park.