Mark the Week: It achieved nothing, the mandates are still here
Author

Publish Date

Fri, 4 Mar 2022, 9:52am
Follow the podcast on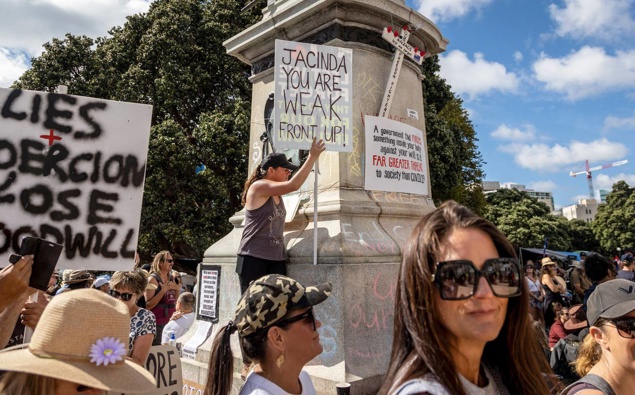 Mark the Week: It achieved nothing, the mandates are still here
Author

Publish Date

Fri, 4 Mar 2022, 9:52am
At the end of each week, Mike Hosking takes you through the big-ticket items and lets you know what he makes of it all. 
The Global Reaction to Ukraine: 8/10 
"In a fractured, disparate world this has been a week of real revelation, comradery, surprise, relief, and hope." 
President Zelensky: 9/10 
"If he makes it, the Nobel Peace Prize winner, surely." 
The Wellington Protest: 2/10 
"It achieved nothing. The mandates are still here.   
It ended abysmally and, ultimately, won next to no friends." 
The Government's Reaction to the Protest: 3/10 
"No, I doubt by talking, much would have been resolved. 
But leadership is about testing the possibilities. And there, as usual, was no leadership." 
The Police's Handling of the Protest: 4/10 
"I feel increasingly sorry for the good men and women who protect us. 
They are being badly let down by a Commissioner who thinks policing and acquiescing are the same thing." 
Our Dairy Sector: 9/10 
"It's almost absurd. This week's dairy auction has more billions piling into the economy. 
They are a lifeline." 
Sleepyhead's Waikato Development: 9/10 
"At last, the green light. 
Those who oppose and waste time, energy, and resource should hang their heads in shame. 
This country needs more ideas and progress like it." 
Kate's Facebook Scam: 1/10 
"Facebook really are bastards. 
They refuse to accept, despite the fact we've told them that we aren't giving away money and there are no winners, that this is a scam. 
Where are the rules and regulations that hold the cowboys to account? And why would you use or advertise on such a shabby platform?" 
LISTEN ABOVE FOR MIKE HOSKING'S FULL WEEK IN REVIEW