Winston Peters calls for organisers of protests to be prosecuted
Author

Publish Date

Tue, 2 Jun 2020, 9:28AM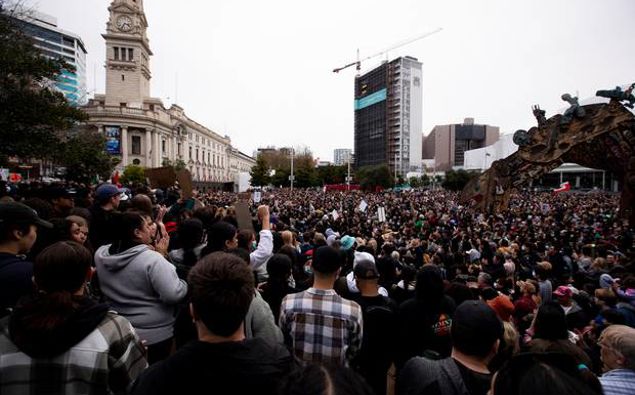 Winston Peters calls for organisers of protests to be prosecuted
Author

Publish Date

Tue, 2 Jun 2020, 9:28AM
Deputy Prime Minister Winston Peters has called for organisers of the Black Lives Matter protests to be prosecuted and wants to know why New Zealand is not at alert level 1 now if authorities are condoning mass gatherings.
Thousands of people attended events around the country yesterday - where Covid-19 social distancing rules were clearly broken - over the death of George Floyd in the United States and in solidarity with the Black Lives Matter movement.
Level 2 rules limit gatherings to 100 people, but at least 4000 were estimated to be at the Auckland protest, and several hundred in Wellington.
Peters said he was concerned people were flouting Covid-19 guidelines and the event organisers should be prosecuted given New Zealand was still at alert level 2.
"The question is, if you're going to have a protest in Auckland and Wellington, where they don't observe the distancing rules...why aren't we at level 1, or why aren't we prosecuting the people who organised these protests?" Peters told Hosking on Tuesday morning.
"We've got people here flouting our rules," Peters said.
If people continued to flout current rules, then authorities needed to transition the country to alert level 1, he said, noting the country was now at 32 days without a community transmission case.
He also crtiticised epidemiologist Professor David Skegg, who had earlier urged caution about a move down to level 1 and taken aim at people playing politics over the transition.
Peters said it was "all very well to be in an ivory tower, cushioned by employment" when thousands of people were out of jobs and businesses were struggling to survive.
Act leader David Seymour earlier also criticised the protesters and reiterated his call for the country to move to level 1, sentiments later followed by National Party leader Todd Muller and his colleague Judith Collins on social media.
The country's "team of 5 million" had combined to fight Covid-19, Peters said.
"That meant we had to have rules and settings which everyone complies with, and these protests aren't legal - they're not observing the distancing rules.
"If the authorities condone that, 'Why are we not at level 1?' is the question people should be asking."
He wanted to know how the protests and vigils were allowed to happen "in a critical situation where people need to comply by the rules as set and as agreed by the mass majority of New Zealanders".
Thousands of people attended the rally in central Auckland on Monday. Photo / Dean Purcell
Floyd's death was serious and he recognised people sympathised with protests about it - but that was not the point.
"What we've got is people that've used that to break the laws of our country."
Condoning rule breaking was not an acceptable way of going forward when Covid-19 is such a serious matter and had "destroyed" our economy, Peters said.
"Either we have laws and rules that everybody complies with or we don't ... so it has to be a case where the law is asserted and complied with."
There was "no chance" it would not be talked about at Cabinet today, Peters said.
He said there was no need to raise his concerns directly with Police Minister Stuart Nash because "we've all seen what's happened".
On the Hosking show this morning, Peters laughed when pushed about on why he could not action a move when he was in a position of power.
"Stand back and watch," Peters said, adding that Cabinet had access to the very latest information and facts. "Watch what happens."
Seymour said the protests yesterday would be hard to watch for people who had followed the rules and lost their livelihoods.
"There will be people who've lost their jobs, lost their businesses, in some cases even lost their homes under Covid-19 restrictions. There are people trapped overseas and separated from their families while the 'lucky' ones spend 14 days all but incarcerated in hotel rooms.
"These are the law-abiding New Zealanders playing their part in the 'team of 5 millions' effort to beat Covid-19."