Is Trump dancing to North Korea's tune?
Author

Publish Date

Mon, 1 Jul 2019, 9:44AM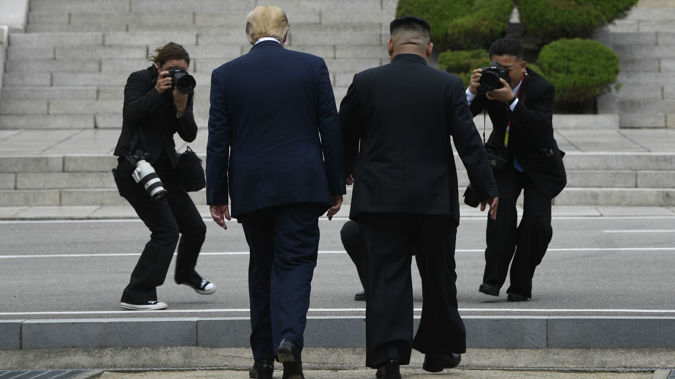 Is Trump dancing to North Korea's tune?
Author

Publish Date

Mon, 1 Jul 2019, 9:44AM
Donald Trump is being accused of handing more power to Kim Jong-un, by going to meet him on North Korean soil.
Trump became the first sitting US president to set foot in North Korea, with an impromptu meeting with Kim in the Demilitarised Zone. 
The two leaders met at the heavily fortified Demilitarized Zone on Sunday and agreed to revive talks on the pariah nation's nuclear program.
What was intended to be an impromptu exchange of pleasantries turned into a 50-minute meeting, another historic first in the yearlong rapprochement between the two technically warring nations. It marked a return to face-to-face contact between the leaders after talks broke down during a summit in Vietnam in February. Significant doubts remain, though, about the future of the negotiations and the North's willingness to give up its stockpile of nuclear weapons .
The border encounter was a made-for television moment. The men strode toward one another from opposite sides of the Joint Security Area and shook hands over the raised patch of concrete at the Military Demarcation Line as cameras clicked and photographers jostled to capture the scene.
After asking if Kim wanted him to cross, Trump took 10 steps into the North with Kim at his side, then escorted Kim back to the South for talks at Freedom House, where they agreed to revive the stalled negotiations.
The move has been talked up by the White House, but Tufts University's Sung Yoon-Lee told Mike Hosking North Korea is calling the shots, and buying time to build a bomb.
"To much of the world, North Korea is so backward and laughable its hard to imagine that North Korea is actually wielding the carrot and stick."
He says that Trump is simply falling into Kim's trap.
"It was always Kim's plan to ensnare Trump in the never-ending process, during which time he does what he really seeks to do, to perfect a bomb."