Barnaby Joyce responds to criticism of Australia's four-step plan
Author

Publish Date

Mon, 5 Jul 2021, 12:41PM
Barnaby Joyce responds to criticism of Australia's four-step plan
Author

Publish Date

Mon, 5 Jul 2021, 12:41PM
Text by Frank Chung
Barnaby Joyce has claimed that the PM's "four-phase" plan to end lockdowns, which did not include any thresholds or targets, actually does have a key number.
The Deputy Prime Minister appeared on Seven's Sunrise on Monday morning to defend Scott Morrison's plan announced on Friday, which drew criticism for lacking concrete metrics 18 months into the pandemic, and failing to set out clear timelines on when the country's international borders can reopen.
The plan notably failed to address Australia's vaccine shortage, despite wide-scale vaccination a requirement to move past "phase one".
"It's not much of a plan, is it?" Labor backbencher Joel Fitzgibbon told the program.
"You don't get steps two, three and four before you have completed step one. You can't return to any form of normality, we can't get over these ridiculous lockdowns, can't get the economy pumping again, until you get broad-scale vaccination."
Sunrise host Natalie Barr asked Mr Joyce why there were "no numbers, no dates" in the plan.
"The numbers are there in what we're doing," the Deputy PM replied.
"The numbers are in excess of eight million … by the end of this week we will be well over nine million, and that is the metric you work for," he continued, referring to the number of vaccine doses administered.
Mr Joyce said the vaccine rollout was accelerating with the AstraZeneca shot now being offered to younger Australians as well, despite concerns over rare blood clots.
"More and more people have had one shot and are heading towards getting the second shot," he said.
"You see it in your own community and your workplace, so many people had a shot now, it is rolling out."
Mr Joyce said the issue was there was "not enough" Pfizer to go around.
"We're not the only country in the world having to deal with this, other countries such as Canada and Mexico are having to draw on the Pfizer vaccine as well, so this idea that the Pfizer vaccine issue is a unique problem is not correct," he said.
"There is supply of AstraZeneca vaccine, as I said, we're trying to grab Pfizer just like Canada and Mexico."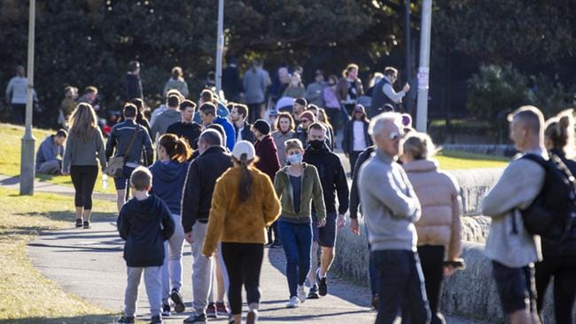 Rushcutters Bay Park on Sunday during lockdown. Photo / Getty Images
Pressed on why the government had not included targets in the four-phase plan, the Deputy PM said he "can't speak into the mind of other people as to why".
"But I would suggest I wouldn't do it because what you want to make sure is you work to a plan that says we are going to have to live with this virus, we are not going to be getting rid of it," he said.
"Even if everybody is vaccinated or you get 90 per cent vaccination, you will still have the virus in the community. So you have got to make sure that you condition people to the idea that our job is to keep you alive, and to stop you from getting sick, we're not going to be able to eradicate Covid-19, it's just not going to happen."
Mr Joyce said Australia had to learn to live with the virus like the flu or measles and mumps.
"We don't want them but we don't close down the economy because of them," he said.
"And that's precisely what we're doing and I think the states are now coming on board with that idea. That sets the nation up in a much stronger place."
LISTEN ABOVE