Host loses control as Australian leaders' debate descends into shouting match
Author

Publish Date

Mon, 9 May 2022, 10:32am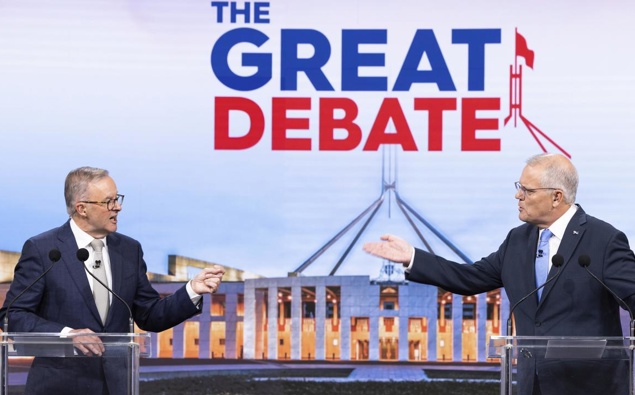 Follow the podcast on
Host loses control as Australian leaders' debate descends into shouting match
Author

Publish Date

Mon, 9 May 2022, 10:32am
Nine's "Great Debate" format has been slammed by viewers as a "s**tshow" after Sunday's showdown descended into a shouting match between Scott Morrison and Anthony Albanese.
Furious Aussies wasted no time in slamming the debate on social media, with one describing it as the "worst debate I have ever seen", and political commentator Ronni Salt declaring it an "insult to the audience".
Greens Senator Sarah Hanson-Young took the opportunity to call for an Independent Debates Commission that oversees the official election debate broadcast on the ABC, while ABC News Breakfast host Michael Rowland also took to Twitter to point out that "It's not too late for an ABC debate".
Meanwhile, ABC data analyst Casey Briggs pointed out that "viewer verdicts" from public debates were "utterly meaningless", and The Guardian's Josh Butler also took the chance to poke fun at the nation's "smartest minds".
During last night's debate, host Sarah Abo repeatedly tried to bring things back under control after the Prime Minister and Labor leader both lost their temper in a heated argument over the Solomon Islands and China.
"You both agreed to the rules," Abo pleaded at one point, as the two men shouted over her and each other.
The ugly scenes started with Mr Morrison being asked to define what his "red line" would entail if China established a military base in the Solomons.
"It means that was something Australia believes would be completely against our national interest, and we also believe it will be against the Solomon Islands' national interest, and we share that view in a similar language with the United States," he said.
Asked by host Chris Uhlmann how Australia would enforce such a "red line", Mr Morrison said it would be "very unwise for any government to speculate around these issues".
"What is the point of talking about a red line if we don't know what you mean by it?" Uhlmann asked
"What it means is, everyone has a clear understanding about what the positions are … people understand that we would work with partners to ensure that the outcome would prevent it," Mr Morrison said.
Mr Albanese then chimed in that it had been a "massive foreign policy failure", the "biggest since the Second World War".
"The government said they would have the Pacific Step Up. Instead, it is a Pacific stuff-up," he said. "We know China is more aggressive and forward leaning in the region. We know they are trying to increase their influence in the region."
Mr Morrison asked the Mr Albanese why Labor cut defence spending.
"I will make this comment, Scott. When I was a minister, we put US Marines into Darwin. When you have been a minister we have had the Port of Darwin sold to a company connected with the Chinese Communist Party," he replied.
That triggered an angry response from the PM, who insisted the federal government "had no authority over that sale whatsoever".
"Your party, you ticked it off – you allowed it to happen," Mr Albanese insisted.
"You could not have had any influence over the CLP [Country Liberal Party] government in the Territory, when they sold off the Port of Darwin to China?"
Abo attempted to interject during this exchange as the two yelled over each other. "I think we are getting more questions," she said.
"Excuse me, I think we're getting more questions between the two of you than from our panel … Mr Morrison and Mr Albanese, this is enough, we do need to move on … You both agreed to the rules this evening."
The two leaders got into another round of yelling after the PM asked how Labor leader would "stand up to China when some of the loudest voices on being pro-Beijing come from your party", repeating an attack on deputy leader Richard Marles.
"That is an outrageous slur," Mr Albanese said.
"Labor has always been good on national security. Labor will always take national security issues seriously."
"How often has Richard Marles met with the Chinese Ambassador in Australia?" Mr Morrison asked.
"That is just an outrageous slur," Mr Albanese said.
"How many times, do you know?"
"Well, how many times has your government, which you are part of, invited the leader of the Chinese Communist Party to address the parliament?"
"Once."
"That is the only time it has happened, and Labor never did. Labor never did."
"He [Richard Marles] runs his speeches pass the Chinese government."
"That is an outrageous slur," Mr Albanese said again, as the yelling resumed.
"We do need to move on," Abo said. "We have given you more than enough time. The pair of you have had more than enough time. You agreed to these rules before coming on the program tonight."
Speaking after the debate, Abo agreed with her fellow hosts that she needed a whistle during the exchange.
"Or a gavel, because they were not listening," she said. "That speaks to the night, they were really engaged."
Reaction to the debate online was mixed.
"This format is not great," Sky News political editor Andrew Clennell wrote.
ABC comedian Mark Humphries suggested Nine "should remove the second word from that 'The Great Debate' graphic".
He added, "Big cheers to everyone who made it to end of that s**tshow."
There was further confusion when Nine revealed the winner of the debate, with Abo originally saying Mr Albanese won 52 per cent to 48 per cent.
But minutes later she said Mr Morrison had won 51 per cent to 49 per cent after a further 30,000 votes had been counted.
Finally Abo said it was a dead heat 50-50 verdict.
- by Frank Chung, news.com.au