Call for calm after chaos at Melbourne pro-Palestine rally
Author

Publish Date

Mon, 13 Nov 2023, 9:42AM
Follow the podcast on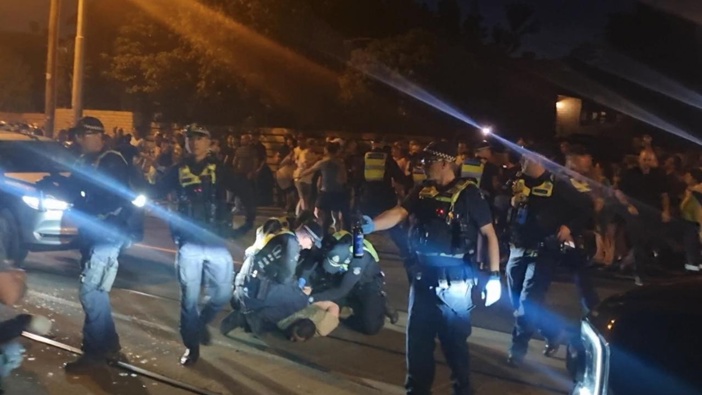 Call for calm after chaos at Melbourne pro-Palestine rally
Author

Publish Date

Mon, 13 Nov 2023, 9:42AM
Pro-Palestine protests in Melbourne on Friday night were a display of "anti-Semitic, thuggish behaviour" and an attempt to assert primacy over Jewish Australians, the Coalition has claimed. 
The opposition's defence spokesman Andrew Hastie made the claims on Sunday morning, as Defence Minister Richard Marles called for "careful language". 
Hundreds of pro-Palestinian supporters entered Caulfield, the heart of Melbourne's Jewish community, on Friday night to demonstrate after a Palestinian-owned burger shop in the suburb was destroyed by fire the night prior. 
Hash Tayeh, who owns the Burgertory store, has previously attended pro-Palestine rallies, but had also spoken about his recognition of the plight of Israeli people in the wake of Hamas' October 7 attacks. 
In an Instagram post on Friday, Mr Tayeh said the incident would "not deter me". 
"I am not a coward. My commitment to raising my voice for a ceasefire and peace remains unshaken," he wrote. 
While police had said they were "very confident" the blaze had not been racially or politically motivated, pro-Palestine supporters alleged it was a hate crime and called for supporters to gather on Friday night. 
A clash was sparked after a nearby synagogue was evacuated and Jewish Australians began to counter protest. 
It escalated into violence and the police had to break up the groups. 
Organisers of the protest have apologised and claimed they did not realise there was a synagogue in close proximity. 
Mr Hastie said Friday night had been "an assertion of one group over another for primacy in the public space", and added it had undermined public safety and public order. 
"The government has to lead, and they have to give clarity to the Australian people about what is acceptable and what is not acceptable behaviour," he told Sky News. 
"We can't be mealy mouthed about this. We have to be direct and clear. 
"And for protesters to go into a suburb of Melbourne where we have a lot of Jewish Australians living and to impose themselves upon that group, and to do it in such an anti-social and thuggish way, is just unacceptable." 
Mr Marles said Jewish Australians had "never felt less safe" in Australia but welcomed the apology from the Free Palestine group who had organised the protest. 
"What matters for those of us in positions of leadership is that we are using our voices to turn the temperature down, and that's actually how we get social cohesion and how we ensure that peace is maintained here in Australia," he told Sky News. 
"Jewish Australians have a right to feel safe, be safe in their own country – no ifs and no buts – and that standard applies to every Australian." 
Mr Marles said Australians had a right to demonstrate against what was happening in the Middle East and to put pressure on the government, but "social cohesion has to be paramount". 
"We do have to look after each other and acknowledge that other Australians are not the focus of the protest," he said. 
He said the damage caused to a Melbourne war memorial, coinciding with Remembrance Day on Saturday, was also "unacceptable". 
"People have a right to protest the issues that have been raised, and … we live in a country where there is freedom of expression … but people need to take responsibility for the way in which that is occurring," he said. 
"Defacing a war memorial does nothing to advance the cause of what's happening in Gaza. It does nothing to advance the cause of the humanitarian situation … but what it does do is add enormous stress to people seeking to commemorate a very sacred moment in our country's history." 
He said the government was remaining steadfast in its bid to "turn the temperature down", alluding to growing calls for a humanitarian ceasefire in Gaza as the death toll in the Palestinian territory continues to climb. 
Foreign Affairs Minister Penny Wong said the government had called for humanitarian pauses as a necessary first step. 
"We need steps towards a ceasefire because we know that it cannot be one sided," she told ABC's Insiders. 
"Israel should do everything it can to observe international humanitarian law. 
"We have seen a harrowing number of civilians, including children, killed. This has to end, and we are particularly concerned with what is happening with medical facilities." 
Mr Hastie meanwhile threw unequivocal support behind Israel. 
"Hamas must be destroyed completely," he said. 
"I think Israel has shown great restraint … They've had people from across the globe calling on them for restraint and they've sent warnings to millions of people living in Gaza to evacuate … They've given the opportunity to get out of the danger zone. 
"For people who say that Israel should show more restraint is I think ignoring the problem, which is that Hamas are using civilians as human shields."
- by Ellen Ransley, news.com.au
Take your Radio, Podcasts and Music with you