Simon Bridges facing National leadership challenge from Muller, Kaye
Author

Publish Date

Wed, 20 May 2020, 8:07AM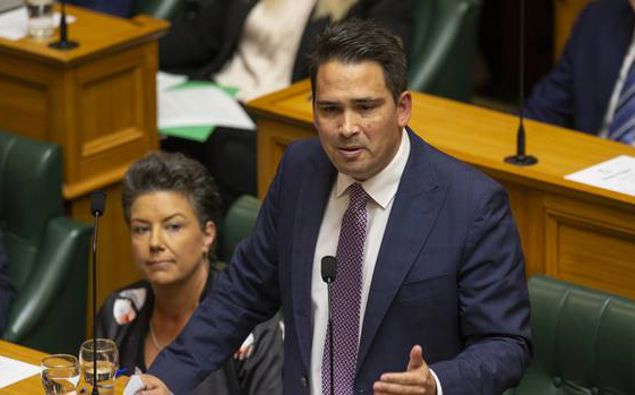 Simon Bridges facing National leadership challenge from Muller, Kaye
Author

Publish Date

Wed, 20 May 2020, 8:07AM
Life just got a whole lot harder for Simon Bridges following the party's disastrous poll ratings.
Bridges this morning confirmed two National MPs - understood to be Todd Muller and Nikki Kaye - will challenge for the National Party leadership and deputy leadership at the party's caucus next Tuesday.
It follows Labour's massive support in this week's political poll - and National's demise - on the back of the way the Government has handled the Covid crisis.
Bridges would not confirm Muller or Kaye's names, saying they deserved the dignity of announcing their own challenge.
National MPs Judith Collins and Mark Mitchell - two of the earlier speculated names - told the NZ Herald and Newstalk ZB they were not challenging.
"Simon has shown enormous resilience...he's got enormous self-belief and he's a smart guy," said Mitchell, who added he did not know if Bridges had the numbers.
Bridges himself confirmed the leadership challenge but told Mike Hosking that he was "very confident" he would win a vote on Tuesday, while NZ First leader Winston Peters says Bridges won't make it to the election.
Bridges said the biggest issue New Zealand faced right now was its economic future. The leadership challenge was "a massive distraction" but he wanted to deal with it and move on and "win an election".
The challenge needed resolving so people could get back to talking about the future of the country, he said.
"I've got a whole lot of great caucus colleagues," he said, namechecking Muller, Collins, Mark Mitchell and Paula Bennett. "We are blessed to have the best team in New Zealand politics."
Asked if the challenge was "destabilising" he said the vast majority of National MPs "get it" and understood what was at play. "I think actually, Tuesday latest we will have resolved this, we'll be able to get back to the things that matter in politics."
Peters told Hosking that Bridges and his colleagues had no grasp of politics and he would not make it to the election. He said he had known Muller a long time and he was a "genuine product" but it was someone else's job to decide if he was a leader.
A leader needed an "authentic brand".
Bridges has previously ruled out Peters as a coalition partner. Asked if he would therefore be in favour of a new National leader, Peters said a party was not worth having "if you've got to get your hope or succour from some other political party which most of them do".
Judith Collins said she would not be standing in a leadership contest next Tuesday. "I definitely have no intention of standing, no intention of doing it."
She said she did not believe a no-confidence vote in Bridges would pass. "My view is I am just focused on the job and I am not part of anything that is going on. I am keeping myself well out of everything.
"It is very important I think that there is as much caucus unity as possible going into any election and I'm just not interested in being part of anything other than doing my job."
Collins is the only National MP other than Bridges who regularly appears in preferred Prime Minister polling although it has only ever been in single digits.
She contested the leadership in 2018 against Bridges, Steven Joyce, Amy Adams and Mark Mitchell when Bill English stepped down.
Mark Mitchell said the National Party had "enormous depth and experience" whereas Labour had a great leader but not many good MPs.
Mitchell would not comment on whether Todd Muller and Nikki Kaye were the challengers. "I'm sure that will become clear on Tuesday."
Mitchell said the resolution of the challenge would be "done quickly". He knew who the challengers were - "conversations had taken place" - but nobody had called him to ask for support.