Judith Collins reacts to the latest political poll showing National on 32%
Author

Publish Date

Fri, 31 Jul 2020, 9:19AM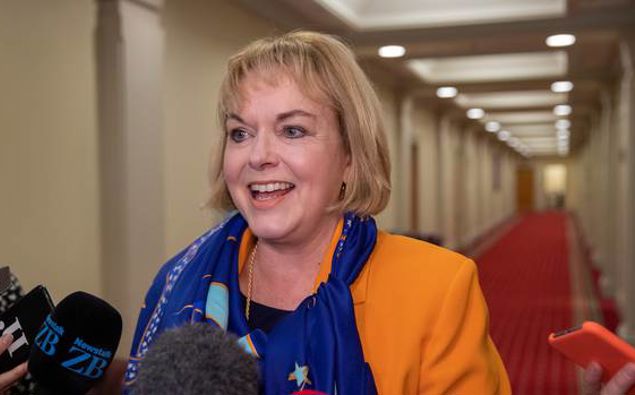 Judith Collins reacts to the latest political poll showing National on 32%
Author

Publish Date

Fri, 31 Jul 2020, 9:19AM
Judith Collins is putting a brave face on the latest political poll, which shows National languishing on 32 per cent - more than 20 points behind Labour.
Collins claimed today voters would return to National again as the economy turned to "custard" - and hundreds of thousands of people came off the second-tranch wage subsidy, on September 1.
She told Newstalk ZB's Mike Hosking she was "not at all worried" about the 1 News-Colmar Brunton poll.
"It's only two weeks in (for her leadership)," Collins said. "I think people are saying at least Judith gets on with the job and that's what you want."
National is down to 32 per cent while Labour moved up another three points in the 1 News-Colmar Brunton poll, to 53 per cent.
Although it was an improvement for National on the Newshub-Reid Research poll earlier this week - that poll had them on a lowly 25 per cent - they are still six points down on where they were when the last Colmar Brunton poll was done in June.
Collins insisted the party was on the way up and that the Colmar Brunton poll was "nowhere near" where National's internal polls stood.
"Don't worry about it, it's all going in the right direction in my opinion."
She said New Zealand was in for a tough economic time, with more job losses, and voters knew National would be the ones to lead when things turned to "custard".
She said 200,000 people were on unemployment benefits, and 360,000 people on wage subsidies that ended on September 1. "We are not sure how many of those are going to have a job after it."
"There are big, tough jobs ahead for us."
New Zealand First would be out of Parliament next term on last night's results, with the party getting just 2 per cent and just one in three voters trusting Winston Peters.
It also put both Act and the Greens on five per cent, putting them right on the threshold to re-enter Parliament without winning an electorate.
But it would be a big win for Act - which had their highest poll result for 17 years - which would get six seats in the House and another one if leader David Seymour wins his safe Epsom seat.
Seymour also did well in the trust rankings with 48 per cent, only coming second to Ardern who 82 per cent trust.
Collins split voters almost down the middle with 47 per cent trusting her and 45 per cent not