Jeremy Clarkson's farm life as on TV, in book 'Diddly Squat: A Year on the Farm'
Author

Publish Date

Thu, 25 Nov 2021, 8:52AM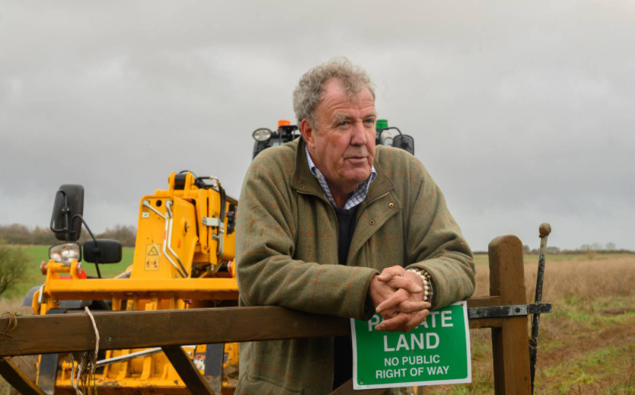 Follow the podcast on
Jeremy Clarkson's farm life as on TV, in book 'Diddly Squat: A Year on the Farm'
Author

Publish Date

Thu, 25 Nov 2021, 8:52AM
Former Top Gear host and English broadcaster Jeremy Clarkson finds the popularity of his show "Clarkson's Farm" extraordinary.
He joined Mike Hosking from his 1000 acre farm in the UK's picturesque Cotswolds, and described his current existence of looking out over his cows – who are plotting to escape - and growing weeds as "exquisite".  
Clarkson is a journalist, farmer, game show host and writer who specialises in motoring and, for 13 years, hosted the popular motoring series Top Gear - where he tackled the show's car-based challenges with a combination of boorish bravado and foolhardy schemes. 
One of his latest ventures saw him attempt to run a farm with no previous experience and his new book Diddly Squat: A Year on the Farm takes readers behind the scenes. 
The well-rated show has Jeremy contending with the worst farming weather in decades, disobedient animals, unresponsive crops, and an unexpected pandemic. 
His small country-town life is not without drama though, as he described his current struggle with the "red-trouser people" in the village, over opening up a café on his farm where he can sell his produce directly to the public.  
He told Hosking that following the success of his "Clarkson's Farm" series he did feel for the people in the village as his little shop has generated lots of interest and some days there five-hour long queues - which has become a bit of nuisance for those in the area.  
Filming for the second season is underway and starts at the beginning of Clarkson's third harvest.  
"When we were making it, I was contractually obliged to make a show on my own and I had travelled a lot so I thought I'd make something at home." 
"I thought, I'll make this farming programme."  
"Nobody had a clue it was going to be as successful as it has been." 
He said it's become quite the success in the UK and internationally – noticing recently that their farm shop is mailing products to people in Texas. 
"Why on earth are people in Texas watching a British motoring journalist trying to organise his ship?" 
Jeremy told Mike they really are filming what actually happens and that all the people on the show were already working on the farm as tractor drivers, agents or dry stone wallers. 
"There was no casting." 
As a result of the show, he said tractor driver Kaleb's Instagram followers have shot up from about 30 to one million.  
Clarkson said how he admired Kaleb's work ethic. 
"If the future of the world is in his hands, then the world will be ok." 
He said he's realised there's a universal language in farming and that whether you're farming in Australia, the Netherlands or America, it's the same; and you encounter the same difficulties with weather and "interfering government nonsense".  
LISTEN ABOVE