Chris Hipkins: 'Assuming' Wellington case is Delta variant
Author

Publish Date

Thu, 24 Jun 2021, 7:20AM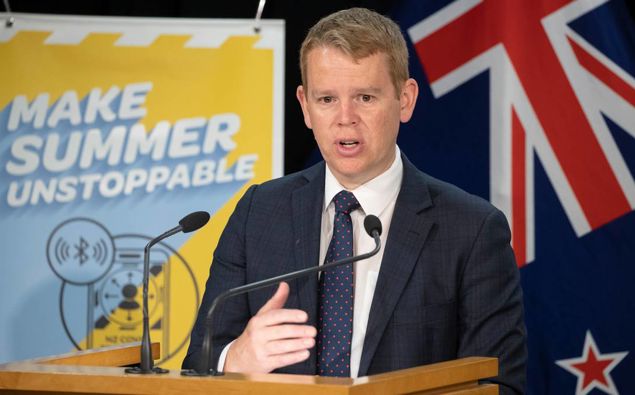 Chris Hipkins: 'Assuming' Wellington case is Delta variant
Author

Publish Date

Thu, 24 Jun 2021, 7:20AM
Health officials are working on the assumption that Wellington is dealing with the Delta variant of Covid-19.
The Wellington region is now in Alert Level Two -- after a Sydney tourist visited the city while probably infectious over the weekend.
Thousands of people are in isolation and seeking a test, after visiting 19 locations of interest.
The man's four close contacts have tested negative.
Covid-19 Response Minister Chris Hipkins told Tim Dower he's yet to receive genome sequencing results for the case, but he's assuming the worst.
"We are assuming it is the Delta variant though and NSW officials indicate that their expectation is that it will be linked to their current cluster."
Hipkins expects to receive the outcome of the sequencing at some point this morning.
LISTEN ABOVE
Locations of interest
New South Wales case
| | | | | |
| --- | --- | --- | --- | --- |
| Location name | Address  | Day | Time | What to do |
| The Weta Cave shop | 1 Weka Street, Miramar, Wellington | 20 June | 11.10am to 12.30pm | Isolate/quarantine for 14 days from last exposure. Test immediately, and on day 5 after last exposure and day 12 after last exposure. Call Healthline on 0800 358 5453. |
| Floridita's Restaurant | 161 Cuba Street, Te Aro, Wellington | 19 June | 12.45pm to 4pm | Isolate/quarantine for 14 days from last exposure. Test immediately, and on day 5 after last exposure and day 12 after last exposure. Call Healthline on 0800 358 5453. |
| Pickle & Pie café | 2 Lombard Street, Wellington | 20 June | 9.45am to 11.37am | Isolate/quarantine for 14 days from last exposure. Test immediately, and on day 5 after last exposure and day 12 after last exposure. Call Healthline on 0800 358 5453. |
| Unichem Wellington Central Pharmacy | 204 Lambton Quay, Wellington | 19 June | 10.38am to 11:48am | Stay at home, get a test around Day 5 after last exposure and stay at home until a negative test result is received. Self-monitor for COVID-19 symptoms for 14 days. If symptoms develop, get a test immediately and stay at home until negative test result is received. Call Healthline on 0800 358 5453. |
| Countdown Cable Lane | 280/284 Lambton Quay, Wellington Central, Wellington | 20 June | 6pm to 7.15pm | Stay at home, get a test around Day 5 after last exposure and stay at home until negative test result is received. Self-monitor for COVID-19 symptoms for 14 days.If symptoms develop, get a test immediately and stay at home until negative test result is received. Call Healthline on 0800 358 5453. |
| 4 Kings Bar at Jack Hacketts - Toilets only | 5 Inglewood Place, Cnr Taranaki St, Wellington | 19 June | 8.45pm | NOTE: If you used the toilets at 4 Kings Bar: Isolate/quarantine for 14 days from last exposure. Test immediately, and on day 5 after last exposure and day 12 after last exposure. Call Healthline on 0800 358 5453. |
| Jack Hackett's Bar | 5 Inglewood Place, Cnr Taranaki St, Wellington | 19 June | 8:45pm to 12 am | Isolate/quarantine for 14 days from last exposure. Test immediately, and on day 5 after last exposure and day 12 after last exposure. Call Healthline on 0800 358 5453. |
| Highwater Eatery | 54 Cuba Street, Wellington | 19 June | 5.45pm to 9.30pm | Isolate/quarantine for 14 days from last exposure. Test immediately, and on day 5 after last exposure and day 12 after last exposure. Call Healthline on 0800 358 5453. |
| Te Papa Tongarewa - general | 55 Cable Street, Wellington | 19 June | 3:05pm to 5:45pm | Stay at home, get a test around Day 5 after last exposure and stay at home until a negative test result is received. Self-monitor for COVID-19 symptoms for 14 days. If symptoms develop, get a test immediately and stay at home until negative test result is received. Call Healthline on 0800 358 5453. |
| Te Papa Tongarewa - Exhibition Surrealist Art: Masterpieces from Museum Boijmans Van Beuningen | 55 Cable Street, Wellington | 19 June | 4pm to 5:45pm | Isolate/quarantine for 14 days from last exposure. Test immediately, and on day 5 after last exposure and day 12 after last exposure. Call Healthline on 0800 358 5453. |
| One Red Dog | 56 Customhouse Quay, Wellington Central, Wellington | 20 June | 7pm to 9pm | Isolate/quarantine for 14 days from last exposure. Test immediately, and on day 5 after last exposure and day 12 after last exposure. Call Healthline on 0800 358 5453. |
| Unity Books | 57 Willis Street, Wellington Central, Wellington | 20 June | 1.50pm to 3.05pm | Stay at home, get a test around Day 5 after last exposure and stay at home until negative test result is received. Self-monitor for COVID-19 symptoms for 14 days. If symptoms develop, get a test immediately and stay at home until negative test result is received. Call Healthline on 0800 358 5453. |
| Rydges Hotel | 75 Featherston Street, Pipitea, Wellington 6011 | 19 June to 21 June | 12am 19 June to 9:10am 21 June | Stay at home, get a test around Day 5 after last exposure and stay at home until a negative test result is received. Self-monitor for COVID-19 symptoms for 14 days. If symptoms develop, get a test immediately and stay at home until negative test result is received. Call Healthline on 0800 358 5453. |
| Prince Barbers | 75C Featherston Street, Pipitea, Wellington | 19 June | 8.45am to 1pm | Isolate/quarantine for 14 days from last exposure. Test immediately, and on day 5 after last exposure and day 12 after last exposure. Call Healthline on 0800 358 5453. |
| The Lido café | 81 Victoria Street, Te Aro, Wellington | 20 June | 1pm to 2.45pm | Isolate/quarantine for 14 days from last exposure. Test immediately, and on day 5 after last exposure and day 12 after last exposure. Call Healthline on 0800 358 5453. |
| Qantas Flight QF163 Sydney to Wellington | Arrived Wellington International Airport | 19 June | Arrival 12.05am | Isolate/quarantine for 14 days from last exposure. Test immediately, and on day 5 after last exposure and day 12 after last exposure. Call Healthline on 0800 358 5453. |
| Wellington Airport - all people in the airport at this time | Wellington Airport, 1 Stewart Duff Drive, Rongotai, Wellington | 21 June | 8.30am to 10.30am | Self monitor for COVID symptoms for 14 days. If symptoms develop, get tested and stay at home until negative test result is received. |
| Wellington Airport Foodcourt - all people seated in the food court area during this time | Wellington Airport, 1 Stewart Duff Drive, Rongotai, Wellington | 21 June | 8.30am to 9.55am | Stay at home, get a test around Day 5 after last exposure and stay at home until negative test result is received. Self-monitor for COVID-19 symptoms for 14 days. If symptoms develop, get a test immediately and stay at home until negative test result is received. Call Healthline on 0800 358 5453. |
| Wellington Airport - Customs | Wellington International Airport | 18 June to 19 June | 11.35pm 18 June to 12.48am 19 June | Self-monitor for COVID symptoms for 14 days. If symptoms develop, get tested and stay at home until negative test result is received. |