Ashley Bloomfield: Officials working 'apace' on NZ-Australia travel bubble
Author

Publish Date

Tue, 26 May 2020, 9:58AM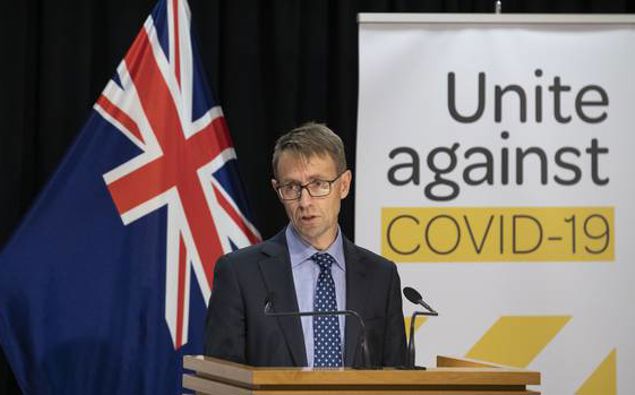 Ashley Bloomfield: Officials working 'apace' on NZ-Australia travel bubble
Author

Publish Date

Tue, 26 May 2020, 9:58AM
Work is happening "apace" on a possible transtasman travel bubble with Australia, says director-general of health Ashley Bloomfield.
It comes as Kiwis face four more weeks of physical distancing obligations and limits on social gatherings, but from Friday will be able to have 100 people at weddings and funerals - as well as private parties.
Prime Minister Jacinda Ardern said that the low number of new Covid-19 cases, including only three in the past fortnight, allowed the current 10-person limit on gatherings and 50-person limit on funerals and tangi to be eased.
But instead of increasing the limit in stages, as Australia is doing, Ardern said it could jump straight to 100 from midday Friday.
Bloomfield said today that work was happening "apace" on having a transtasman bubble, allowing Kiwis and Australians to travel to each country, without 14-day quarantining.
Asked if he would travel to Australia today - like another health expert, Michael Baker, has said he would do - Bloomfield told Newstalk ZB's Mike Hosking that he had no trips planned.
"The risk in Australia is low, particularly in some parts of Australia, it is low in New Zealand. Rest assured there is work happening apace to see how we can potentially open that border up and enable travel between the two countries."
While no timeframe has been given on when borders might freed up, Ardern told media that Australia would need to sort out some internal issues first.
"The states haven't opened up to each other yet," she told RNZ. "Obviously I would expect to see some of those issues resolved before we'd see them necessarily opening up to New Zealand and you can understand why.
"People want to be able to travel internally in Australia before they'd expect to be able to come across the ditch."
Speaking later, she softened her language, saying the "most likely sequencing" is state borders opening up first. "I imagine they'll want to see those issues resolved around their domestic border, most likely first, that's my expectation," she said.
Ardern revealed that New Zealand would remain at alert level 2 for at least four more weeks.
Cabinet will review the level 2 settings on June 8 - but will not consider whether the country is ready to move to level 1 until June 22.
If ready, New Zealanders would be given a few days' notice before the alert level was to drop.
Director-General of Health Dr Ashley Bloomfield said alert level 1 would remove some of the requirements around physical distancing, and further open up mass gathering sizes.
Everything would not be back to normal though - there would still be strong border measures and basic public health measures to reduce the likelihood of infection.
Bloomfield told Newstalk ZB's Mike Hosking there was still an "active pandemic" out there and New Zealand had moved out of lockdown faster than any other country.
There have been suggestions of a vaccine by September but Bloomfield said that went against the general view from around the world and was a "very aspirational goal".
The WHO had been very clear the pandemic would go on for some time, he said. "There's a lot of effort going into different treatment options."
For example, New Zealand's Blood Service is collecting plasma from people who had had Covid-19 to use on people who might be infected.
Hosking asked about work out of Britain suggesting people were not infectious after 11 days, but Bloomfield said the 14-day measure was still used globally as it gave a margin of error.
Asked whether a Covid-19 vaccine should be compulsory, Bloomfield said if vaccines were made accessible, uptake was likely to be good enough for herd immunity.
The anti-vaxx movement was not the same as people with "vaccine hesitancy" - the latter would get vaccinated if the vaccine was accessible and good information was provided.