Tim Beveridge: Poor sportsmanship has lost rugby its top ref
Author

Publish Date

Fri, 3 Nov 2023, 1:33PM
Follow the podcast on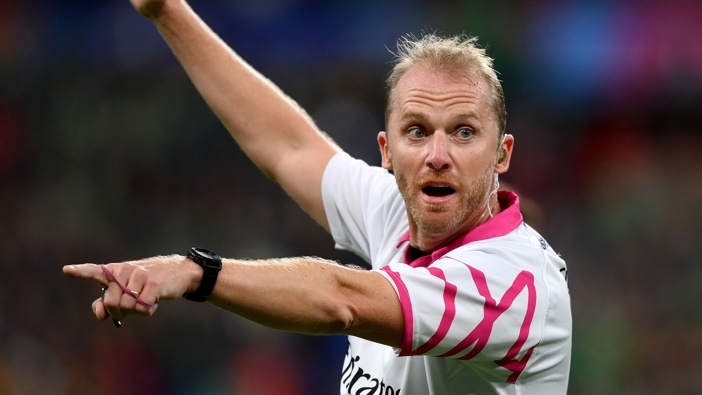 Tim Beveridge: Poor sportsmanship has lost rugby its top ref
Author

Publish Date

Fri, 3 Nov 2023, 1:33PM
I thought that one thing we've done over the past few days is put the Rugby World Cup Final disappointment behind us.  
We've dealt with the result, we've welcomed the team home, we've said farewell to a bunch of players —quite nice scenes at the airport I thought, with people warmly welcoming the All Blacks and Ian Foster home— and I thought that's it. We can move on now.   
So, I admit it was with some shock that I clicked on to the New Zealand Herald website this morning to see the news that Wayne Barnes —who oversaw the World Cup Final between South Africa and the All Blacks— has retired from refereeing, stating that online abuse and threats have become too regular for everyone involved in rugby.   
So, one of the top, if not the top ref in rugby, is gone from the game in —let's be honest— his prime, at the relatively young age of 44, having overseen 111 test matches.   
What a career and what a disgrace.   
You don't need to go online to see the sort of abuse that he put up with, you can just witness just from the crowd reaction that he experienced at the Rugby World Cup Final.  
Which was something his wife and his children also had to witness, and frankly, I'm disgusted.   
I think this is a tragic result for him and for rugby.   
There might be some who goes oh who cares, good riddance, but while you're at it, ask yourself how many people who might be considering having a crack with the whistle, will be thinking maybe not.   
It's worth saying and I think it would be unreasonable not to acknowledge that many, maybe the majority of New Zealand rugby supporters, do have a level of nuance and maturity when it comes to dealing with disappointment. You know, we get passionate at the time, but we get over it.  
But I think it would also be naive to suggest that it's just a fringe element ruining it for everyone.   
You just need to look at a home Test match with the booing and jeering that goes on while the opposition is taking a kick to realize we have a problem with bad sportsmanship.   
For a stark contrast, look at the test matches that are played in Ireland where the ground crowd goes completely silent and respect of the kicker.   
Personally, I like Wayne Barnes.   
Look, back in the day with that forward pass I probably hated him like everyone else, but then I grew up. I like the clarity with which he communicates with the players on the pitch.   
He knows all the players by name, he's respectful, he's polite, and thoroughly professional in the way he goes about his business.  
And I guess I can't help but wonder if the All Blacks had won that match, would we be seeing Wayne Barnes retiring from the game? I think there's a good chance we might not.  
Here's the tragedy:  
Had we won, he might still be reffing. But instead, and because of the poor sportsmanship of a large number of the rugby community who struggle to keep a sane perspective on a sporting loss, rugby has lost its top ref.  
And we just have to hope that more don't follow.  
Take your Radio, Podcasts and Music with you