Kerre McIvor: Is the new National Party lineup the alternative you've been waiting for?
Author

Publish Date

Tue, 7 Dec 2021, 1:11PM
Follow the podcast on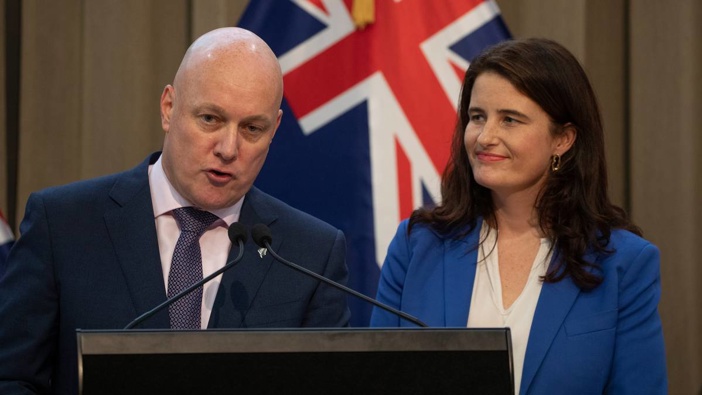 Kerre McIvor: Is the new National Party lineup the alternative you've been waiting for?
Author

Publish Date

Tue, 7 Dec 2021, 1:11PM
As you would have heard Mike discussing this morning, Christopher Luxon has announced his shadow ministers.  Audrey Young and the New Zealand Herald has done a great head-to-head with the shadow ministers versus Ardern and her cabinet, and there do appear to be a number of capable spokesmen and women who could ask tough questions of this Government now that the lineups been announced.  
I think this has been National's most egregious failing, to have spent the past 18 months allowing this government to get away with a number of major stuff-ups, and not holding their feet to the fire and holding them to account.  
In part Nationals been stymied by lockdowns and Parliament being limited by social distancing rules and skeleton representation, but really and truly an opposition party could, indeed should, have been calling out this government on its failings over the past year.  
From memory, even Labour, when it was going through its own musical chairs hunt to find a leader, were better at calling out the Key Government on its failings, remember housing that became such a hot topic, than National have been doing in the past 18 months.  
Still, as Christopher Luxon has said time and again, they are looking forward not back and the announcement of the shadow government should give a few Labour ministers a run for their money, looking at you, Michael Wood, Poto Williams, and Khris Faafoi.  
Although Labour does have a very, very strong leader and a very capable deputy leader in Grant Robertson, and it'll be hard to remove their shine, I'm absolutely certain Christopher Luxon and Simon Bridges will give it a go.  
Christopher Luxon says all of his appointments have been made on merit.  
Absolutely, he's bang on about that. So, looking at the shadow government, at the lineup. Do you think that's what he's been able to achieve?  
Todd Muller was asked about the party caucus, and although he hasn't been given a ranking, he says it's a great lineup. You get a real sense of a National Party caucus, chosen very much on performance. People want to see a shadow cabinet of MPs who can run the future Government, and that's what it's starting to feel like. Not a cabal of malcontents. It's actually starting to look like okay on the one hand, you have Labour offering this, on the other, you have National offering that. And we haven't seen that for a while.  
So, I'd like to get your feedback on this. Does this look like a party of capable performers who could offer you an alternative? If you don't like the incumbents, does this give you a valid choice? To me looking at it, it does. For the first time in a while, you have a sense that okay here are people who can get things done.  
Early days I think you know, even the National Party faithful would probably be holding their breath and just hoping that this gets through Christmas and the first six months of next year.  
But it is looking capable in the way that Christopher Luxon was appointed as Leader of National. Shows a party that's unified and on song. Not driven with inner feuding. It looks like a good lineup and it looks like an alternative. Which is the best we've seen for a very long time.  
Speaking of Todd Muller, though, he's now decided he will in fact be standing in the Bay of Plenty electorate. After announcing in June that he'd be retiring at the next election. The electorate chair said he had plenty of support stand again, she's delighted. He says he's re-energized and ready to go after his infamous meltdown when he was the National Party leader for a very short time. And I think you should be given a chance to do it again.  I'd be very interested to hear from the people of Bay of Plenty. He's your MP after all? It'll be up to you whether it gets his job back again. According to the electorate chair, he has plenty of support. Is that among the party faithful in the Bay of Plenty? Or is it among the actual voters?
Take your Radio, Podcasts and Music with you