Andrew Dickens: Dr Ashley broke me when he announced changes to the way we monitor Covid infections
Author

Publish Date

Wed, 20 Jul 2022, 12:40pm
Follow the podcast on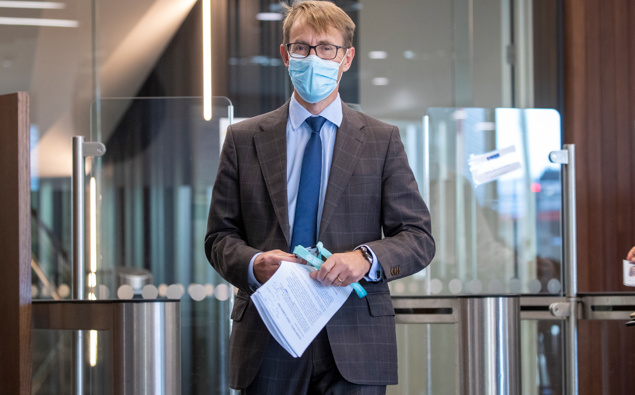 Andrew Dickens: Dr Ashley broke me when he announced changes to the way we monitor Covid infections
Author

Publish Date

Wed, 20 Jul 2022, 12:40pm
We're going to talk Covid, which is probably a good thing that I'm here instead of Kerre, because you know how Kerre feels about Covid and the Covid debate – it broke her. I think this may be the final time I talk about Covid as well. 
I actually said on the Drive show the other day,  I declared Covid over because the Government had done everything it could to protect the population with vaccinations etc, and masks and advice and so many people were telling them wrong. And I said, well, OK, the Covid's over, you're on your own, do what you have to do. You have been educated. It has been two and a half years, you know what to do. 
But no, Covid had one more sting in the tail and that sting in the tail yesterday was Doctor Ashley Bloomfield and possibly his last address to the nation at midday, he's leaving next week. 
When Dr. Ashley came on and announced changes to the way we run monitoring of the Covid infection - it broke me. 
Now, if you've listened to me, you'll know that I've been a broad supporter of the general idea of the fight against the Covid-19 coronavirus infection over the last two and a half years. I have had problems with it. I've had problems with the implementation.
Some problems I excuse because it was an emergency, we've never been here before and the plans weren't great, and we made cockups.  I understood that. But I was a broad supporter. I was a supporter of the first lockdown. No one was happier than I that it actually worked, and we ended up being one of the few countries free of the Covid-19 infection, which meant that our businesses powered ahead at great speed and we had a summer! 
At the basis of the entire Covid battle was knowing just how much this virus our country had in its group. How many infections? How many hospitalisations?  How many deaths? And you needed to know that information to help decide what you were going to do. And we had debates about that information.  
Doctor Ashley Bloomfield in the Ministry of Health, supported by the Government, came out and towed the World Health Organisation line. If you died with Covid within 28 days of having a Covid infection that was a Covid death. Now we all round about.
That's not exactly correct, Ashley, because you can get the Covid but you could get over it in a week and then you go and get run over by a bus. Oh look he had Covid 16 days ago -  that goes on to the Covid death total. 
That's wrong, we all knew it was wrong. We railed about it. 
The new way of counting deaths is going to say we have fewer deaths. Put it all together, the whole threat from Covid has greatly been diminished. Am I right or am I right?
I sat there on the Drive show last night, hearing this and going for God sake, sorry for taking the name of the Lord in vain, but for God's sake, Ashley! 
Here you are one week away from actually walking away from the job, and now you're doing the very thing that we ask you to do for two and a half years.