Kerre McIvor: Protests at parliament can be meaningful, this one wasn't
Author

Publish Date

Thu, 3 Mar 2022, 11:37am
Follow the podcast on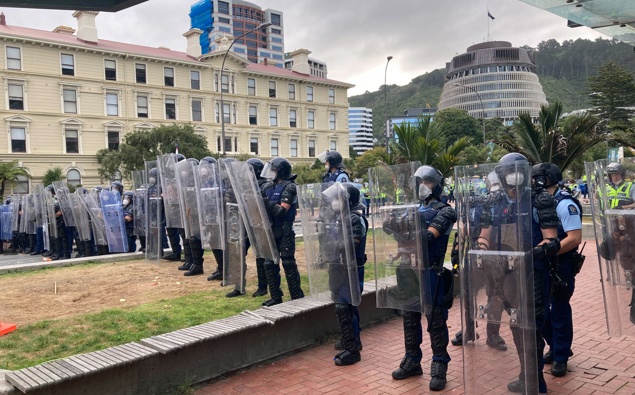 Kerre McIvor: Protests at parliament can be meaningful, this one wasn't
Author

Publish Date

Thu, 3 Mar 2022, 11:37am
It was pretty ugly yesterday afternoon, wasn't it? What began with creches and concerts and herb gardens and Kumbaya ended in violence and arson. 
The Wellington protesters believed they had right on their side. They believed they had all of New Zealand behind them. But ultimately, they believe that their rights superseded the rights of other New Zealanders to go about their business, to go to school, to commute, to work. Their rights don't supersede the rights of other New Zealanders.  
Protest all you like; I take my hat off to you. If you feel strongly enough, compelled enough to get out of your comfort zone to go somewhere to raise your head above the parapet and say, I think this is wrong, good for you. But the moment you break the law, the moment you say your beliefs trump mine and I have to seed my right of way to you, you no longer have my support or sympathy. 
Should the police have acted sooner? I really think it would have been ghastly if they'd moved in the first week. Even the second week. Once the peaceful protesters had upped sticks and gone, then that was the time to go - had they gone in earlier it would have been really ugly. 
I don't want to see violence, but at the same time I do not want to see protesters think they have the right to supersede my rights. 
They don't. You have your strong belief, you hold on to it. You protest, you protest lawfully, do not impinge on my rights. And once we start seeing walls around Parliament. That will really brass me off too. 
Do we need to block off Parliament to the public in general? Or should we just cherry pick and close up the nutters carrying placards with death threats? I'd hate to see protests at Parliament ended because some people acted unlawfully. I think protests at Parliament can be powerful and they can be meaningful. This one wasn't.