Kerre McIvor: I don't feel like supporting cyclists or cycle lanes again
Author

Publish Date

Mon, 31 May 2021, 12:27PM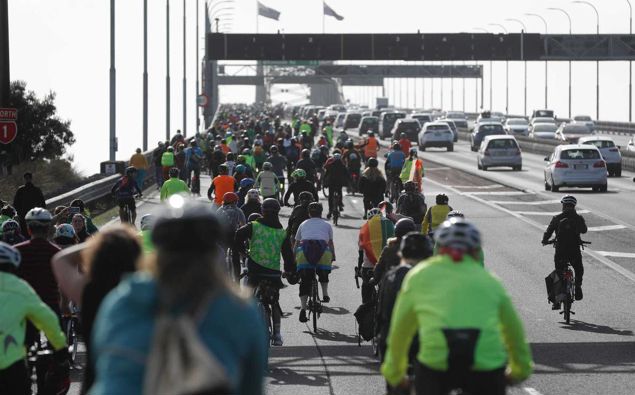 Kerre McIvor: I don't feel like supporting cyclists or cycle lanes again
Author

Publish Date

Mon, 31 May 2021, 12:27PM
I was heading over to the North Shore on Sunday morning - in the never ending search for the perfect inter-generational home - and thought how lovely to see so many families out cycling. 
There seemed to be far more than usual - mums, dads, little kids, babies strapped in the back - and although it was a little irritating, doing 5 ks down Herne Bay's side roads, it was Sunday morning these people were having lovely family time and what the hey. 
Then, as I got closer to the park, I saw hundreds of them.  Like a swarm of lycra clad rats, coming out of every side street and road. 
I had to wait while a policeman directed traffic - hordes of cyclists crossing on the road in front of me, and after four or five minutes, I was allowed to drive onto the Curran Road on ramp.  Well lucky I wasn't ten minutes later setting off. 
Had that been so, I would not have been able to make the appointment because the cyclists whipped up by perennial spinning wheeler Julie Ann Genter went from a lawful rally at Point Erin Park, to a law breaking ride across the Harbour Bridge, backing up traffic for hours on State Highway 1. 
I have no problem with cycling proponents wanting a way to get from the North Shore to Auckland City.  Hell, if we end up buying a house over there, I might have actually used it. 
But right now, I don't feel like ever being supportive about cyclists or cycling lanes ever again. There is absolutely no difference between these law breaking, entitled, demanding gits and the law breaking, entitled gits on motorbikes who take over the roads and the highways when they feel like it - other than the fact that the motorcyclists pay to be on the road and the cyclists don't. 
With all the immature reasoning and rationale of four year olds, the cyclists took over the bridge because they want something and right now, this minute, they can't have it. 
Bike Auckland chair Barb Cuthbert addressed the protesters after they returned from their bridge crossing. 
'Ooooh, how did you like our lane?'  I bet they were ever so thrilled with their smug, lycra clad moment of derring-do and bravery in taking on the police. 
Later that night, sitting around Auckland's leafy suburbs with a median house price of around 3 million dollars, they would have sipped their chardonnay or pinot noir or for the younger ones, kombucha, and thrilled to the excitement of telling the story of the day they took over the Harbour Bridge - a story that will be told and retold in years to come as they push around the gourmet sausages on the BBQ at the beach pad in Omaha. 
That they won't have cycled to mind, because how would they get the toys and the Farro hampers up there if they were biking, but by crikey, the grandkids will know and their kids will know too of the day their courageous forebears took on the authorities and won.