Kate Hawkesby: Why I will never ride an e-scooter
Author

Publish Date

Tue, 10 Aug 2021, 8:47AM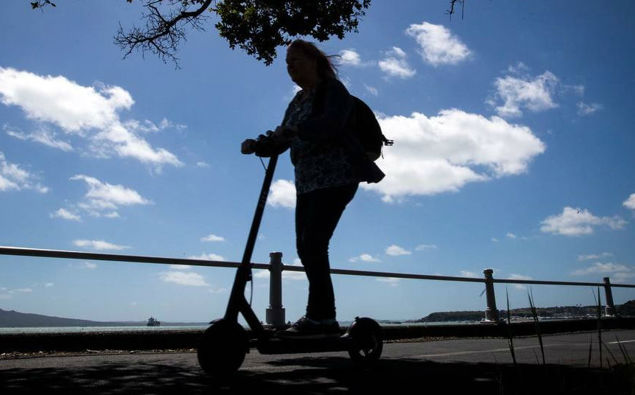 Kate Hawkesby: Why I will never ride an e-scooter
Author

Publish Date

Tue, 10 Aug 2021, 8:47AM
I'm slightly worried about exploding e-scooters.
It was reported yesterday that a Beam e-scooter's battery exploded in an inner city Auckland street, luckily no one was on it at the time.
Witnesses reported an 'ear-splitting bang' and smoke billowing from it.
Pieces went flying from it too apparently, fortunately there was no fire, and no one too close by, but imagine if someone had been on that? Or next to it?
It's nothing short of pure good luck that it happened and didn't injure anyone.
Beam's not alone in malfunctioning scooters, Lime had difficulties back in 2018.
In fact, Fire and Emergency warned in a report that there'll be a rise in incidents related to lithium-ion batteries. And this of course is due to the rise in devices being powered by them these days. Electric cars, vapes, as well as e-scooters.
I'm not actually a fan of these scooters, due to the way they appear to whiz around the place with few considerations for pedestrians.
I watched an elderly man get the fright of his life the other day at a busy intersection when he was crossing the road and an e-scooter tore past, turning right across him taking him by total surprise.
It very nearly clipped him, but the rider just whizzed on by without a care in the world. And that's the problem often with these types of things; they attract a certain cowboy wild west approach from the riders.
The scooter market has exploded (no lithium-ion pun intended), so we seem saturated with them these days.
But who's actually taking care of them, looking after them, checking the batteries aren't going to explode, and watching out for dangerous places they get dumped?
The scooter companies are supposed to, but how often do you see scooters littered all over the streets in ways that create hazards for walkers. It must be an absolute nightmare for anyone with vision impairment.
I also think the rules around them are too loose.
Waka Kotahi says 'E-scooters can be used on the footpath or the road – except in designated cycle lanes. On the footpath the user must operate the device in a careful and considerate manner, operate the device at a speed that does not put other footpath users at risk, give way to both pedestrians and drivers of mobility devices.'
Is any of that happening? Who's checking? You don't even have to wear helmets on them. I mean it's recommended but it's not mandatory.
So we have a plethora of these things zipping around our cities, lying across our footpaths, and now, exploding.
Do you know, by the way, what happens when a scooter explodes? You can report the malfunction online. If you were riding it, you can get a refund. And just be grateful it didn't take your eye out when it blew up I guess.
I wasn't a fan of e-scooters in the first place; I'm even less of a fan now.