HDPA: Workplace repairs highlights scourge of scaffolding
Author

Publish Date

Thu, 31 Oct 2019, 4:16PM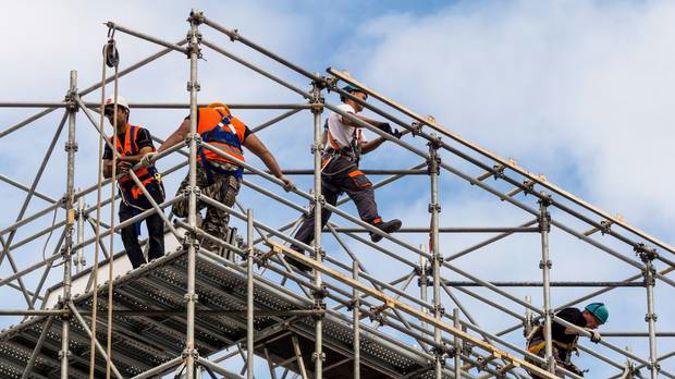 HDPA: Workplace repairs highlights scourge of scaffolding
Author

Publish Date

Thu, 31 Oct 2019, 4:16PM
You should see what's going on in our office today. We've got scaffolding like you wouldn't believe.
The reason? One window.
The window is above one of our main entrances, it's a storey up. It's not huge - it's about three metres high and 30 cm wide, and it should actually be a reasonably easy window to replace, because below it is a massive problem,about the size of three cars parked side by side.
So all you'd have to do to replace this window is put a ladder against the platform, climb up one storey, stand on the massive platform, and change the window.
But do you think that's how we change a window nowadays? No. We need scaffolding, because god forbid someone falls off the platform by taking full 10 steps in the wrong direction.
So now we've got scaffolding on three sides of the platform, going up two storeys high into the air.
There is nothing I hate in this world more than scaffolding. In my renovations at home I needed scaffolding for the building work. Now I'll need scaffolding for the painting, and then the roof painting, and I'm lucky I don't need it for a flue the log burner. I paid $5,000 to rebuild a toilet, half of that was scaffolding.
Scaffolding is mostly a giant waste of money, and it's at least part of the reason that building is so expensive in this country that people can't afford to maintain or renovate their properties
We've gone completely over board with health and safety. Scaffolding, safety glass, chippies banned in early childhood centres.
The point is to stop deaths but it doesn't work. We've got more deaths in the construction sector this year than in the last ten years. You know why?  Because we've stopped asking people to think for themselves.
We put so many safety regulations and rules in place that people switch off their brains and end up getting more hurt.
When the government announced it was going to review health and safety I thought, here we go, this things going to get fixed. But then I saw who was in charge of that review - Iain lees Galloway. And then I heard what he said, that apparently our regulation needs to be "strengthened"
So you can guess which direction this is heading. It's time to invest in a scaffolding company