HDPA: Ardern and Morrison laid it on thick in Queenstown love fest
Author

Publish Date

Mon, 31 May 2021, 9:12pm
Follow the podcast on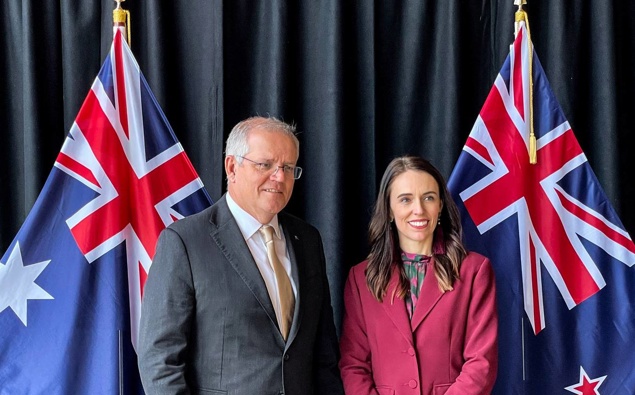 HDPA: Ardern and Morrison laid it on thick in Queenstown love fest
Author

Publish Date

Mon, 31 May 2021, 9:12pm
That was a love fest, wasn't it? 
Both Scott Morrison and Jacinda Ardern went out of their way to convince us that they are friends 
Jacinda Ardern mentioned more than once how often they talk to each other, saying at one stage during the Covid response she was in more contact with ScoMo than her mum.
They swapped jerseys, and they drove it home by trying very hard to call each other by their first names.  No Prime Minister Ardern and Prime Minister Morrison here.  It was all Jacinda and Scott. 
It helped that news broke this weekend that New Zealand is joining – as a third party - Australia's case against China at the WTO about the tariffs on their barley exports.
And in that case is the clue as to why these two are trying to present such a united front: China.
In fact, Scott Morrison just addressed that head on saying: "There will be those far from here that seek to divide us. They will not succeed".
This display today is obviously an attempt to kill off perception that New Zealand is cosying up to China, and splitting from its western allies.
But why?  Why such the effort? 
And who is the audience?  Is it China, is it the UK and Australian commentators who've been criticising New Zealand, it is the US which has put pressure on all its Five Eyes allies?  
Some believe New Zealand has realised its error in cosying up to china and is correcting it.  Some believe New Zealand is aligning with Australia in anticipation of the Chinese punishing us next.  Some believe, it's just to avoid giving anyone any more ammunition to attack the united front of the Five Eyes countries 
Whatever the reason, the lovefest was hard to miss. ScoMo and Jacinda really want you to know they're best friends right now.