Andrew Dickens: It's not freedom we've lost, it's our common sense
Author

Publish Date

Mon, 28 Feb 2022, 5:43pm
Follow the podcast on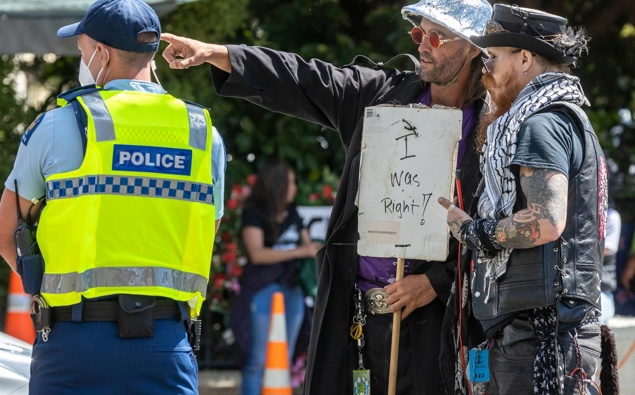 Andrew Dickens: It's not freedom we've lost, it's our common sense
Author

Publish Date

Mon, 28 Feb 2022, 5:43pm
After the weekend I've come to the realisation that it's not freedom that we've lost. It's our collective common sense. 
Saturday night I took the family to a restaurant to celebrate my oldest son's birthday. It was full. 
So, saying that what I mean was that the entire outside terrace was full. There was one couple inside. The capacity outside is the same inside so the hospo owner says returns are the same as a good winter. But there is a fear that come the bad weather, receipts will be down. 
But all the other nearby hospo sites were doing bustling business. 
We weren't asked for a vax passport. After all, with 96% vaxxed and this far in the unvaxxed have got the message. 
It all seemed like common sense and if felt free. 
Meanwhile inside the rugby was on. A cracking match between the Blues and the Hurricanes in an enormous stadium with fresh air flow and not one spectator at all. What was that about? I'm sure someone could have figured out 100 person zones and we could have had 2000 people or more. 
No common sense there. 
The cricket played all weekend and they had zones. They could have had more people there but still, a bit of common sense on display. 
On Sunday there was the local half marathon. An event that was almost cancelled a number of times, but someone figured out that runners could set out 100 at a time. Common sense prevailed and a great time was had by everyone. 
Sunday saw Harbour Bridge protestors set up camp at Auckland's Domain. No problem. There's a bylaw against that. Kick em out. But the police failed to move. I would have thought after Wellington it would have been common sense to move quickly but no.  
They're still there. No common sense 
Sunday, I got a call from a friend whose daughter is in a set room at a Victoria Uni dorm. A set room is a room where you have to pass through someone else's room to gain access. Turns out the neighbouring student now has Covid so my friend's daughter is now trapped in her room. Where was the common sense in having set rooms in a pandemic? 
Turns out the dorm is still serviced by RAs. Basically, third years earning beer money. They don't have a clue how to handle a virus ravaged dorm. Why not a nurse for each floor? Where was the common sense in the university's management of their accommodation? 
And then there's the government dropping the self-iso for returning New Zealanders on the day they start returning. Surely common sense says you should have done that a fortnight ago.   
And then there's the sudden shift to rapid antigen testing despite the fact we don't have the RATs when we could have months ago. One of the greatest failures of common sense this whole pandemic long. 
In the final wash up of these 2 years of Covid, I reckon we will find that one of the biggest impingers on our freedoms has been scaredy pant bureaucrats with no common sense.