Andrew Dickens: I got swept up in the tractor protests in Auckland
Author

Publish Date

Fri, 16 Jul 2021, 6:25pm
Follow the podcast on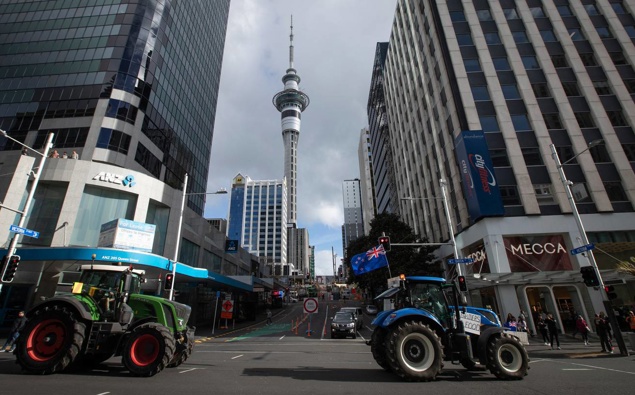 Andrew Dickens: I got swept up in the tractor protests in Auckland
Author

Publish Date

Fri, 16 Jul 2021, 6:25pm
So Farmers had a big day out today and they brought their tractors to town and somehow I got swept up in it.
My boy is back from Wellington for a quick visit and I picked him up from the airport.
We had some errands to do so we wombled our way across the city and the traffic was incredible.
"What's all this about?",  I thought as Ben said "Gee, it's worse than Wellington".
When I got onto the Southern Motorway I twigged.  
I found myself amongst utes and tractors as the farmers and their supporters made their way to Queen Street and here's what I saw:
The motorway was chocka but rolling.
On each of the overbridges on the motorway there were small crowds of 10 to 15 people carrying silver fern flags supporting the tractors on the roll.
The convoy was supported by police cars with LED signs warning of queues ahead and other traffic would toot their support as tractors came past the opposite way.
I swung off the motorway.  
Got an e-scooter out of the boot and made my way into town.
Which was the only way to get anywhere.  At midday town was snarled.  I was at Queen Street by 12.15pm and the sight was pretty amazing.
Giant tractors stretched all the way from the bottom of town to the top.
Utes with dogs and tradies with ladders.  
Some had signs like Free NZ.  
There were a lot of MAGA signs.  
MAGA stands for Make Ardern Go Away.  
One ute had a sign saying Jacinda is a Communist Bitch.  
Other than that though the mood was jovial.
Crowds seemed supportive but all sorts of other protestors were coat tailing.  
Falun Gong was passing out End the Chinese Communist Party brochures.
One group had professionally made core flutes that said Toot For Farmers and S.N.A.  
S.N.A stands for Significant Natural Areas and that's the legislation that prevents those farmers from fully utilising their land which farmers describe as a land grab.
Turns out this crowd was Voices For Freedom.  
I asked them what they stood for and they said medical freedoms and freedom of speech.  
Turns out these guys are anti vaxxers and anti-lockdowns.
One of their leaders told me they had 20,000 members
I approached a number of tractor drivers and utes for an interview but they all turned me down.  
They had been told not to talk to the media.
One guy asked me who I was and when I told him he said "Of course you are, you're on an e-scooter."
I struck up another conversation with a tractor driver.  
He asked me how affected the city was.  
I told him it was pretty snarled up.
He said apologies.
I said "No worries, we're used to Mongrel Mob funerals."
 Bless him, he laughed.
An hour later the snarl up had past and everything came back to normal.
But here's an observation.  
Compared to the anger voiced at Mongrel Mob motorcycle parades and earlier traffic congestion caused by TPPA protestors, the reaction of the people in the CBD was good natured.  
There was no outrage that the protestors were getting in the way of people trying to make a living.
Maybe the townies are more supportive of the Farmers than the farmers think.