The Huddle: Toa the Orca; America's Cup costs; bikini bottoms
Author

Publish Date

Tue, 20 Jul 2021, 9:22PM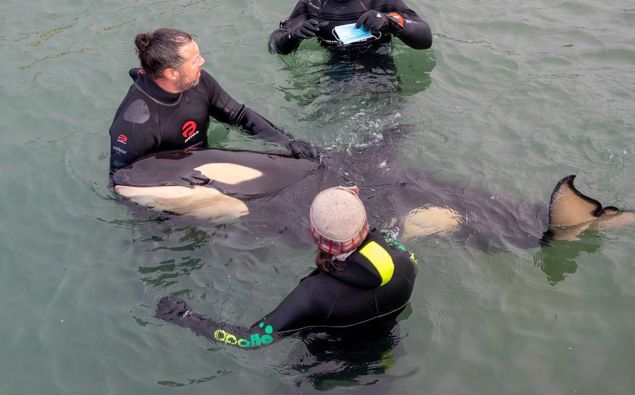 The Huddle: Toa the Orca; America's Cup costs; bikini bottoms
Author

Publish Date

Tue, 20 Jul 2021, 9:22PM
Trish Sherson and Matthew Tukaki join Heather du Plessis-Allan on the panel.
Toa, the young Orca calf, has been in the care of Department of Conservation (DOC) staff and volunteers since becoming separated from his mother at Plimmerton, north of Wellington on July 11.
Reports suggest the cost of looking after Toa are approximately $10,000 so far, excluding the cost of DOC staff.
As the chances of reconnecting Toa with his pod are dropping and factoring in his youth, there is believed to be only two options left - euthanasia or putting him into a purpose-built facility of which there was none in New Zealand.
Tukaki believes the answer is clear, as blunt as it may sound.
"As sad as it might be - I don't want to be cold or heartless - but we've had this poor little sentient being in our care for long enough. Chances of finding that pod and reconnecting it with its mother are pretty slim," he says.
"We can't let this continue just because human emotion gets in the way.
"In the best interests of this particular whale, I think we just need to make a decision.
"The SPCA have provided some scientific advice - follow the science."
Meanwhile, it's been revealed the New Zealand economy was left $293 million worse off from hosting the 36th America's Cup in 2021.
An official cost-benefit report was revealed today and identified a string of factors, including Covid-19, a lack of challenging syndicates and overly high public investment generated "significant deficits" for Auckland and New Zealand.
Sherson expects the massive loss to make it difficult for Team New Zealand and the Royal New Zealand Yacht Squadron to find a host overseas for the next regatta.
"Good luck if they find money overseas, but this probably won't help them on the international market because other cities around the world are going to look at this and go that wasn't a very good deal."
Tukaki says New Zealand should be investing money otherwise used to host the Cup again in other things.
"How does it stack up to investing in industries for growth and potential export, all of those different things. I would rather invest $142 million - if that's the figure we're dealing with - I'd like to give a million dollars to 142 startups to grow their business... that will bring in real jobs, it will be long-term sustainable."