The Huddle: National's reshuffle reflects the diminished caucus
Author

Publish Date

Wed, 11 Nov 2020, 7:45PM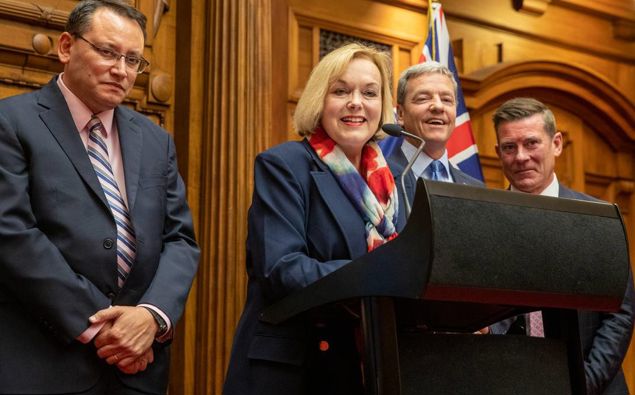 The Huddle: National's reshuffle reflects the diminished caucus
Author

Publish Date

Wed, 11 Nov 2020, 7:45PM
A shake-up in National's  shadow cabinet has earned some criticism
Leader Judith Collins today announced new deputy Shane Reti remains Health spokesperson, while Michael Woodhouse is taking on finance -- replacing Paul Goldsmith, who moves to Education.
Sitting at number three, Andrew Bayly will take on Shadow Treasurer and infrastructure and statistics. 
The decision to split the roles has sparked confusion as to why Collins has made the choice.
Speaking on The Huddle with Chris Lynch, political commentator Neale Jones says that Bayly is a Collins loyalist, but he doesn't have the public profile.
"She seems to have carved the job out for him. It just looks a bit messy."
He says that Chris Luxon should have been given a high profile portfolio to capitalise on his past with Air New Zealand, but he is instead down at number 30 on the list. 
Commentator Ben Thomas says that there has been a lot of movement, but the issue is that the caucus has just 33 people.
"A combination of very safe blue seats, and people who might be regarded as time card punches, and former Key ministers. There wasn't a lot of excitement in terms of entries into caucus at election time, so you can't really hope for miracles when reshuffle comes around."
Meanwhile, a lawyer says the Canterbury DHB acted excessively over the dismissal of a worker.
The Employment Relations Authority has told Canterbury DHB it must pay a former hospital cafe worker 42 thousand.
It fired her for "misappropriating cash in a deceptive manner", after she didn't repay ten dollars taken from a donation jar to buy lozenges, when a pay facility failed to work.
Employment lawyer Robert Thompson says this made it extremely difficult for the worker to find other work.
Thompson says the impact the firing had on the person and their family was excessive.