Controversial anti-vaxxer MP quits Scott Morrison's party
Author

Publish Date

Tue, 23 Feb 2021, 5:17PM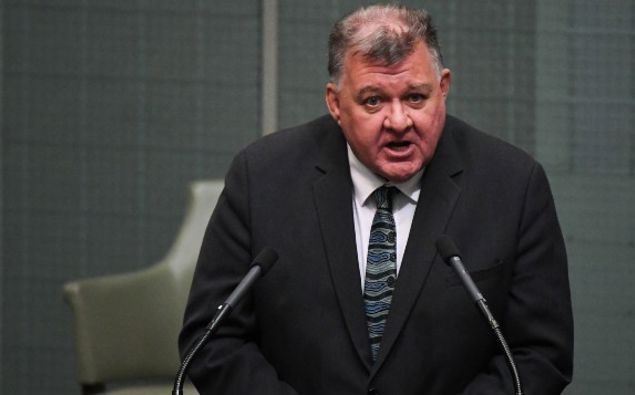 Controversial anti-vaxxer MP quits Scott Morrison's party
Author

Publish Date

Tue, 23 Feb 2021, 5:17PM
Liberal MP Craig Kelly has quit the party and will sit on the cross bench.
The controversial MP handed his resignation letter to Prime Minister Scott Morrison during today's party room meeting.
Mr Kelly's decision means the government loses its one-seat majority on the floor of the House of Representatives, but he is guaranteeing confidence and supply which means in theory he won't trigger an early election, news.com.au reports. 
But he confirmed his move to the crossbench was a result of his disagreement with the Prime Minister over alternative COVID treatments.
"I have the greatest respect for Scott Morrison," he told Sky News.
"I hope he goes on to be one of our longest serving and greatest Prime Ministers.
"I'll support the government, naturally of course, on all matters of supply, confidence."
Mr Kelly said it was rubbish to suggest he was anti-vaccination.
"I've been labelled an anti-vaxxer which is just slanderous smear," he said.
But Mr Kelly could end up switching parties to the Nationals after the former leader Barnaby Joyce ducked out of the joint Coalition partyroom to chase Mr Kelly after his announcement.
Nationals Senator Matt Canavan told news.com.au that he had urged Mr Kelly to join the Nationals.
"I did say to him that I had always wanted him to join," Senator Canavan said.
"I am absolutely serious."
As Mr Kelly remained locked in his office, One Nation Senator Malcolm Roberts also turned up to speak to him but was unable to enter the office as the ex-Liberal was conducting a television interview.
Prime Minister Scott Morrison has pledged the government will "continue to function" after Mr Kelly's shock decision to sit on the crossbench.
The big move leaves the Morrison Government with 76 seats in the 151-seat Parliament but it has just 75 seats after taking into account the Speaker Tony Smith who traditionally doesn't vote.
The Speaker can deliver a casting vote on a deadlocked vote but this has rarely been required in the past.
It practice, it means that to pass legislation the Morrison Government will need Mr Kelly or another crossbencher to support the government's legislative agenda or Mr Smith to cast a vote in the event of a deadlocked vote.
"The government will continue to function, as it has successfully,'' the PM said.
"As the government has led Australia through the worst situation we've seen since the Second World War, we will continue to do so undistracted and we'll be able to do so with the support of the parliament from the very undertakings that the member for Hughes has indicated publicly."
Mr Morrison confirmed he had set out clear expectations on a range of matters that he expected Mr Kelly to follow, but that he ultimately could not.
His concerns include a staff member in Mr Kelly's office who is under police investigation amid allegations of inappropriate work conduct.
"I have long expressed to Mr Kelly my concerns about that staff member and he has long understood what my expectations were about how he would deal with that matter,'' the Prime Minister said.
Mr Kelly was suspended from Facebook last week after he shared a series of COVID-related posts to his official MP Facebook page, which has more than 80,000 followers.
The five posts Mr Kelly said got him banned featured unproven claims about hydroxychloroquine by professor Dolores Cahill; a profile of professor Thomas Borody in The Spectator Australia which includes the promotion of ivermectin to treat coronavirus; and claims by pathologist Roger Hodkinson that masks are "useless" for children and "paper and fabric masks are simply virtue signalling".
Neither of the drugs are recommended by health authorities in Australia to treat COVID-19 outside of a clinical trial.
Ivermectin is the active ingredient in medicines that treat human and animal diseases caused by parasites like mites and lice.
Hydroxychloroquine is a cheap and readily available drug has been used for more than 30 years for a variety of reasons.
It is being trialled on Australian health workers to assess whether it can protect them from being infected by COVID-19.
Mr Kelly told The Australian that the ban was a "dark day for freedom of speech" — and that
he would continue to support early treatment drug options even if they are not backed by chief medical officers.
"I hope this (Facebook) ban is temporary. They went through thousands of my posts and only found five that led to the ban," he said. "I support the government message on vaccinations. I am advocating for treatments in concert with the vaccine.
"Three of the posts that were banned weren't even my opinions. They were quotes from highly credentialed scientists. You might not agree with them, but the public have a right to know about these scientists' views and people can rebut them."
In a statement, a Facebook spokeswoman said: "We don't allow anyone to share misinformation about COVID-19 that could lead to imminent physical harm. We have clear policies against this type of content and will remove it when we become aware of it."
Mr Kelly strenuously denies he is an anti-vaxxer, despite peddling a range of alternative treatments on his popular Facebook page.
"Any suggestion that I am some sort of anti-vaxxer is nothing but slander, smear and slime,'' Mr Kelly previously told news.com.au.
"If you can't debate, if people are getting black-banned and cancelled that is a very sad day for democracy."
Mr Kelly's posts caused a stir in parliament earlier this month, particularly after he sat down for an interview with celebrity chef-turned-COVID-denier Evans.
Mr Kelly's refusal to follow government health advice has been a problem for the PM, who earlier this month dragged the rogue MP into his office for a dressing-down.
The meeting came after Mr Kelly and Labor MP Tanya Plibersek had a public confrontation over the spread of misinformation in a parliamentary corridor.
Mr Morrison is understood to have made it "very clear" he cannot support Mr Kelly's views nor his actions and asked him to refrain from airing views that are contrary to the accepted medical advice.
The Prime Minister bluntly told him that his actions were negatively impacting the government's $6 billion vaccine strategy.
Afterwards, Mr Kelly put out a statement claiming to support the government's vaccine rollout, but almost immediately began posting his alternative views again, leading the PM getting savaged by Labor in question time.
text by Samantha Maiden, news.com.au