Nadine Higgins: Filming crashes devoid of humanity
Author

Publish Date

Tue, 16 Jan 2018, 6:52am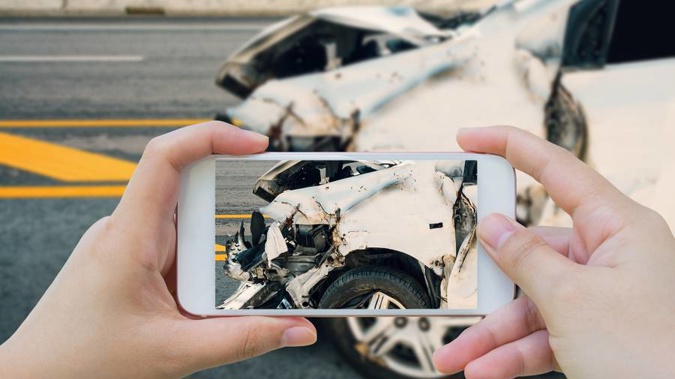 Nadine Higgins: Filming crashes devoid of humanity
Author

Publish Date

Tue, 16 Jan 2018, 6:52am
Lots of things on social media make me go - ick.
Gratuitous selfies, fishings for compliments, oversharing, shameless undisclosed plugging of products you didn't pay for - but this latest example of the downside of social media makes me feel physically sick. 
So here's the gist of it. There was a crash recently in Wainuiomata and a 71-year-old man was seriously injured when his car was hit by another and flipped on its side. A woman and her partner get to the scene, look around to see if anyone else is there and see one other person. A man. 
But he's not helping the man trapped and injured in his car. Instead, he's filming everything on his phone 
Apparently, this poor excuse for a human even went right up to the window for a close up. Here's a question for that degenerate. What if that man died .. and all you'd done was capture the moment on your phone?
What the hell has gone wrong with a person's moral code if they can stand by filming someone's suffering instead of trying to help make it better? How tragic to have your darkest hour need to be recorded by a complete stranger, who wouldn't bother to help you. 
Unbelievably, according to police, this isn't a one-off incident.
They say there's been a noticeable increase in the number of people taking photos or recording video at crash scenes. They're warning that if you identify the victim on social media, which not only could result in their poor families finding out about the state they're loved ones are in through their Facebook feed, which is bad enough, but it could also breach the person's privacy if you identify them online in such a vulnerable position. 
We've all been rubberneckers at the crash site you drive pass. That's why the travel crawls past the scene - because everyone is having a good geeze. But I wouldn't drive on by if someone needed help - and filming it for internet notoriety is just next level. It's sick.
I remember a few years back as a young reporter driving through torrential rain to cover flooding near Dunedin when the car in front of me, full of kids, drifted left and then swerved so sharply right that it rolled a couple of times right in front of me. Turns out the driver had nodded off. 
I remember feeling mortified that people would see me, the first person on the scene, in a marked news car and think I was there to report on it, rather than help - which is what I did. I've never been a fan of the ambulance-chasing style of journalism. Now it seems every Tom Dick and Harry is an ambulance chaser as they chase likes on line. 
It's like that episode of Black Mirror except it's like, real life. It makes me despair for humanity to think people are so devoid of humanity that their first instinct is not to help, but to stand back and press record.