Kate Hawkesby: Trevor Mallard's childish actions are a new low
Author

Publish Date

Mon, 14 Feb 2022, 9:19am
Follow the podcast on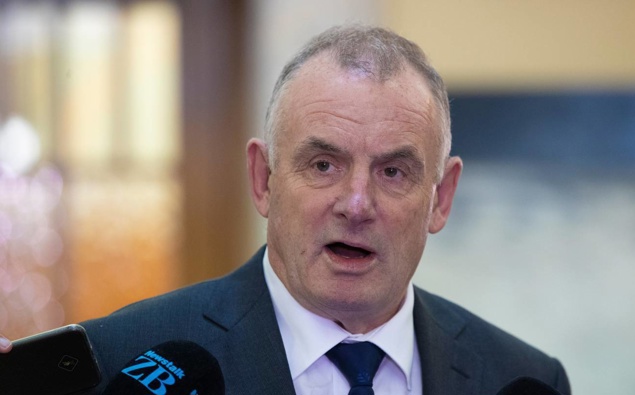 Kate Hawkesby: Trevor Mallard's childish actions are a new low
Author

Publish Date

Mon, 14 Feb 2022, 9:19am
Trevor Mallard has officially lost the plot.
If you're in any doubt, google the column my colleague Heather du-Plessis Allan wrote for the Herald On Sunday yesterday.
She pointed out his disturbing overreach whereby he "advised" media to stay away from protestors outside Parliament. Heather questions how much of this is actually 'advice' versus instruction – and how democratic is it really to keep media away from a protest. 
He's done it under the guise of protection of course – appointing himself as some overarching protector of all – whether they want or need to be protected or not. 
It's an old school 'I know best' approach that reeks of patriarchy and has no place here in the modern world. But what the Government's tried to do here – and failed in my opinion, is grab the narrative on this protest and shut it down. Problem is they've only made things worse.
Refusing to speak to the protestors, writing them all off as wacko conspiracy theorists, and rabid far-right anti-vaxxers is a big mistake – and has only served to gaslight the situation. Media who've ignored Mallard's instructions, have managed to gauge a large diversity of views from a raft of other people there too – yes there are your fringe nutters, but actually, the anger runs deep and there're some genuinely aggrieved people out there too.
Only a fool would dismiss them and hope they go away. 
Yet that's what Mallard, Robertson and Ardern are trying to do. Robertson's rolled out the usual sneering condescending frown down the nose rhetoric which is so popular in the left-leaning sandpit of Twitter.. just writing them off as dangerous rabid crazies. Mallard has taken it next level – he's stooped to childish antics of pulling dumb – as someone pointed out "boomer" stunts -– like sticking hoses on them and playing them the Macarena.
Why try to turn this into a joke? 
Not even the Police support his actions and have distanced themselves from that stupidity. And why give it this much attention if the government line is supposed to be ignore them? Ardern on the other hand has done what she does best – head in sand, fingers in ears – vanish. She's invisible. But when put on the spot to address it, she joins the Robertson 'write them off' camp.
But it's not working, the protest is only swelling in number, not even a cyclone diminished their enthusiasm.
The other problem for the government is the hypocrisy on display here. Let's not forget all these MP's decrying the protest were all proud protestors themselves back in the day. So they support free speech, and your right to protest.. but only if it aligns with their views. I'm not on the side of the protestors here by the way – they've blown this by a long shot – it's a disorganised shambolic out of control mess.
But I wouldn't be so arrogant as to write them all off as anti-vaxxers and far-right conspirators. There is genuine anger that runs deep in this now very divided country, over mandates and the campaign of control and fear.
So to just write off those protesting without even hearing them, is a dangerous move I think, by a government increasingly out of its depth.