Kate Hawkesby: Listen to the students tackling US gun problem
Author

Section

Publish Date

Thursday, 22 February 2018, 7:28a.m.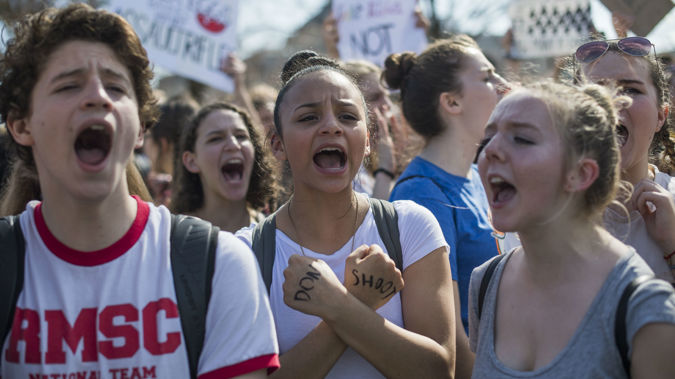 I see the latest group trying to take charge of America's gun control issue is students.
Students who are fed up seeing their fellow classmates massacred. They seem to have momentum. Which is good, political change doesn't come without political pressure, and the larger the body of voices the more likely it is to be heard.
Two student events driven by the survivors of the Florida shooting include a mass national school walk out, and a march. It's now fuelled by some star power too, George and Amal Clooney donated $500,000 to the cause, Oprah soon followed suit and matched that figure. You watch that number grow, because no one loves a cause more than Hollywood.
Students are saying they've had enough of the cycle, and rightly so. Imagine growing up with the fear that you may die at school. It's incomprehensible to us but it's a tragic reality for them. How to fix it? How to define it? Is it a mental health issue? Or a gun issue?
I see Trump yesterday moved to ban all devices which turn legal weapons into machine guns. It's called the bump stock ban. Concerningly the NRA supports the move, which raises the question, is it enough? If the NRA supports it, I tend to think no, but it's a start. Here is what really matters though in such a contentious debate, the facts.
Within minutes of the Florida shooting last week we heard the number '18' being bandied around. 18 school shootings since the start of the year. That figure was reported everywhere from Bernie Sanders Twitter to New York's Mayor to celebrities to pretty much every news organisation in the world
By the night of the shooting, the top suggested search after typing "18" into Google was "18 school shootings 2018". The number was shocking, which is how it probably got so much traction, but critically, it was also wrong.
That figure originated from a press release by anti-gun violence lobby group, "Everytown for gun safety'. It's famous for tallying up shooting numbers. But it's now being accused of inflating those numbers, by including shootings that technically are not 'school shootings' as we would presume them to be. They include any shots fired in, on, or around a school ground or carpark, regardless of whether they involved any students, teachers, other people, or injuries, regardless of whether the school was open at the time.
Are we splitting hairs? No, the figures matter, because each side of the debate uses them. Gun control activists to fight for bans, gun rights groups to argue the anti-gun lobbyists are inflating the issue or the numbers. Either way, though, it's inspiring to see the people most affected by this issue, are grabbing it back and taking ownership. American students are saying no more deaths at school. While many will dismiss this as students venting in yet another noisy headline grabbing protest, I believe they should be listened to. It's their lives which are most affected, and crucially for America, it's their votes which will count in a few years time.