Kate Hawkesby: Police acted too little, too late
Author

Publish Date

Thu, 3 Mar 2022, 8:08am
Follow the podcast on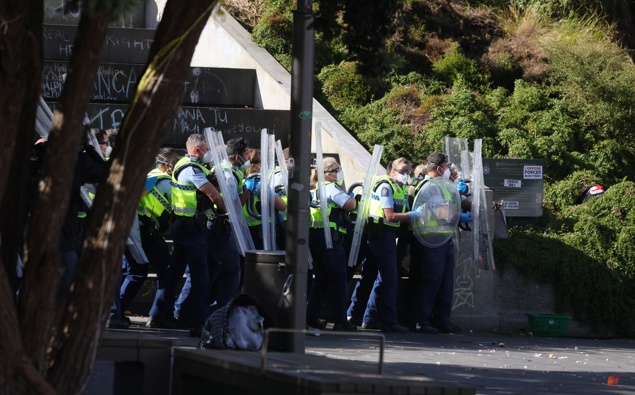 Kate Hawkesby: Police acted too little, too late
Author

Publish Date

Thu, 3 Mar 2022, 8:08am
Too little too late would be my assessment of yesterday's clear out of the protestors. 
And when I say clear out - there's still a few there, but the most obvious question is why on earth it took so long to get to this point? 
Surely what happened yesterday could've happened week one, before it grew, got infrastructure and spread around other cities. 
To let it get entrenched to the point where riot police with shields and pepper spray had to be called in to clear it out, is to have left it far too long. I wonder if Coster, in his quiet moments (of which there appear to be far too many), ponders the merits of faster action. 
By the time they're plumbing showers into the city's water mains, and setting up toilets and kitchens, it's gone too far. 
But that first week, when all the rabid nutjobs were there, that was the time to go in.  
Nip it in the bud. It was an illegal protest so shut it down within 48 hours. Instead, they poured fuel on the fire - everything from Mallard's macarena and sprinklers, to Ardern's condemnation of them from her very high horse, to Coster's decision to stand back and do nothing- making Police look weak and ineffective.  
The cops we were hearing from were fed up, sick of sitting on the sideline when they could've been more active. 
The protest, fuelled by petty actions from politicians, and emboldened by Police's acceptance of their presence, not only grew but started to garner public sympathy - one poll showed 1 in 3 New Zealanders supported it. Mandates became a public debate the PM couldn't ignore, momentum kept building.  
Are we at all surprised it ended the way it did? 
Coster claimed he didn't want to turn the whole thing into a fight, but after all this time, how was it ever going to end any other way? 
The protestors were rarked up, they'd had tips offs Police were coming, they were bristling - and by the time cops got there - it was all on. 
In the end the fringe let the protest down, the crazies that joined in wrecking any chance of the peace and love brigade getting cut through.  
And that's where the more moderate protestors lost the room. Instead of attacking the media and police for not telling their story correctly, they should've been dealing with the nutjobs themselves, extinguishing their presence and voice at the occupation. Instead - it got feral. Protestors were given the chance to leave, but many decided to riot instead. 
No common sense, law-abiding New Zealander, not even the ones mad about the mandates, would condone that sort of behaviour.  
And so, the protest undid itself, proved the PM's summation correct when she called them deplorable - a badly handled mismanaged shambles of a protest.  
A Police Commissioner too slow, too ponderous, too piece-meal. And a government who badly misread it and unwisely didn't follow their own favourite mantra of going hard and going early.