Kate Hawkesby: No I don't think we should force schools to mandate masks
Author

Publish Date

Mon, 2 May 2022, 8:29am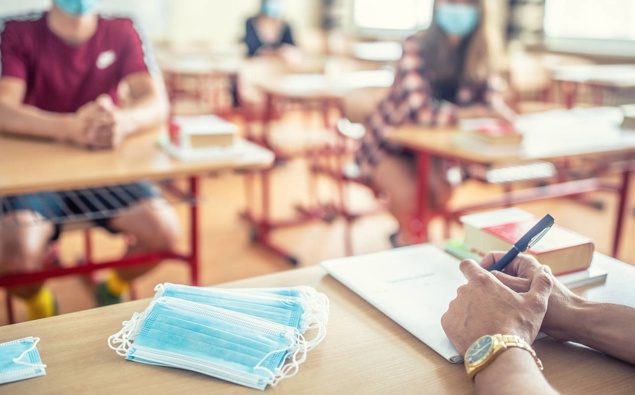 Follow the podcast on
Kate Hawkesby: No I don't think we should force schools to mandate masks
Author

Publish Date

Mon, 2 May 2022, 8:29am
So term goes back today for schools, and as we enter the winter months many seem nervous about colds and flu viruses and winter bugs. But I was hoping that sense would prevail at this point and most would realise that we are a highly vaccinated country, past the peak of the pandemic, and that life returning to normal is actually really important for everyone's wellbeing and mental health. 
So it was with disappointment I read an email from our school stating that for this term, they've decided to continue with masks.
Not even the Ministry of Education is pushing that barrow anymore – they've said it's up to individual schools, essentially that's the Ministry passing the buck so they don't have to have any responsibility for it of course. But it's left schools in the invidious position of 1, trying to please everyone, and 2, do their best for their school community.
So what is best? I would've argued at this point of young people's lives, a return to normality would be a good start. To have fear messaging still being communicated is I think a shame. I mean of course, I get it, there'll be some teachers still nervous about kids spreading germs, there'll be children inevitably coming down with sniffles who'll potentially come to school when they shouldn't. 
There'll be questionable hygiene practices, there'll be parents worried that those who haven't caught Covid will catch it in the winter months. Plus I fully get their desire to keep school environments healthy and well, given all the disruption and upset of the past two years with lockdowns and remote learning. I know no one wants to go back to that again. 
So I get all the projected anxiety around keeping Covid at bay, but I still found myself disappointed that the school said it was "concerned that students and staff be safe". What is this obsession with the word 'safe' and that we're all 'unsafe' if we're not in a mask? I know of vaccinated people in masks who still got Covid, likewise, I know of masked people at crowded events where it later transpired Covid was present, who never got Covid. At this point, I'd argue it's a crapshoot whether you're going to get it or not.
But most of all, I'd argue we have to stop pushing this anxiety, draped in the word 'concerned' onto our young people. They're already so scarred by all this fear-mongering and all the lockdowns. They've missed out on so much, had to do so much learning under trying conditions, and now they're being told they have to keep their faces covered up for another whole term at least. Six and a half hours a day, 5 days a week, breathing in carbon dioxide, unable to see teachers' faces or make out words clearly, blocking their ability to learn unencumbered by the constant reminder that we should all be terrified of Covid.
 Part of learning to live with it, and be normal again – which by the way even the PM has said we need to do – is surely moving past all the fear rhetoric and scaremongering of masks. Surely school needs to feel like a progressive place? 
So I personally just don't think throwing in another term of mask use is necessary.