Kate Hawkesby: I don't actually blame Police for the gang problem
Author

Publish Date

Thu, 26 May 2022, 7:13am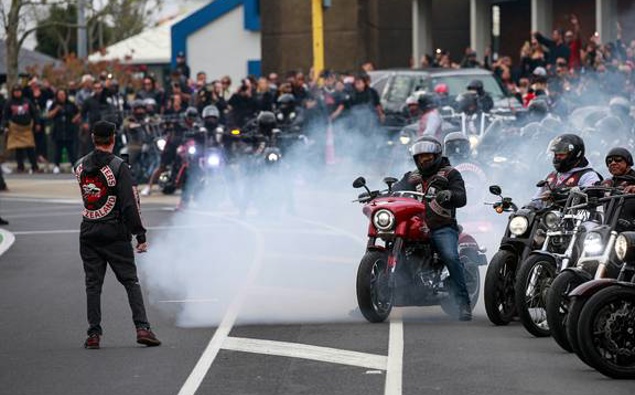 Follow the podcast on
Kate Hawkesby: I don't actually blame Police for the gang problem
Author

Publish Date

Thu, 26 May 2022, 7:13am
Police say they're disgusted by the shootings happening in Auckland. They can join the club, we all are.
And although it's believed to be gangs feuding in some kind of reignited turf war, two of the houses shot at had no gang links whatsoever, Police revealed.
How disturbing, and as Police say, disgusting. 
Police also say they'll be increasing their presence in the area, they're worried it's only a matter of time before someone gets seriously injured or killed. The community is worried too and rightly so. The question is – how did it even get this far? And the answer to that, sadly, is it got this far because it was able to.
Gangs have not been stood up to for the bullies, criminals and reprobates they are. 
They have been pandered to and curried favour with, and time and time again been given the benefit of the doubt by a naïve government soft on crime. I'm not interested in these gang members back stories and how tough their childhoods' may have been, or whatever other excuses are being offered up, they're not living in a civilized way inside a civilized society. 
They're wreaking havoc, displaying criminal intent, malicious illegal behaviour and now endangering innocent lives. When is it enough?
Law abiding, decent Kiwis have watched them take over the streets for tangi and convoys wherever and whenever they fancy, including during lockdowns. We have witnessed them terrorize communities with stand over tactics and intimidating behaviour, we have seen them make endless excuses as to why they should be allowed to do whatever they want. 
We have watched a government stand by, inept and incompetent, and do nothing.
I don't blame the Police, we know from many who've contacted us how infuriated they are that their hands are tied, that they're so bogged down in bureaucracy they can't even act if they wanted to. There are administrative hurdles, and committees, and rules to jump through, there's investigative work and community work, and allowances made to be sensitive to circumstances.
But there appears very little action. Words, concern, meetings, chat.. all hui no dooey. 
It's top down of course, and a head in the sand approach from a government who refuses to accept that it's soft on crime approach doesn't help. It doesn't help us and it doesn't help them. We can all see it for what it is, so why can't they? And in refusing to see it they look foolish because there's no pulling the wool over our eyes on this one. They can't spin their way out of it. 
Cuddles Coster has given an overarching impression that Police will turn a blind eye, certainly the recalcitrant ram raiders know that. Two of the teens quoted recently on why they repeatedly ram raid, said it's because they know the cops will do nothing.
Charming. 
I don't doubt it's a sentiment shared by gangs too, who've been emboldened by this government, and who bank on its lack of action. And don't even get me started on the types of guns used, high powered rifles Police reckon. So a perfect storm of terrifying high powered weapons, brazen gang members, and a slow to act soft on crime government.
What a mess.
And worse, what a crying shame it's all been allowed to get this far.