Kate Hawkesby: How much freedom does the vaccine pass really give us?
Author

Publish Date

Thu, 18 Nov 2021, 8:45AM
Follow the podcast on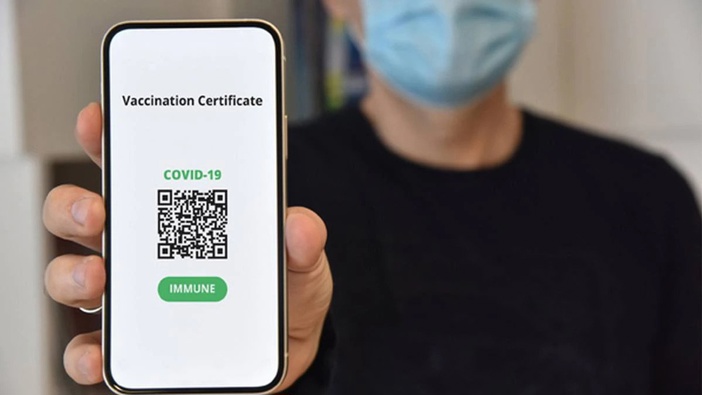 Kate Hawkesby: How much freedom does the vaccine pass really give us?
Author

Publish Date

Thu, 18 Nov 2021, 8:45AM
It feels weird to stop and think what's become of our lives these days and how basic things like leaving your city or walking into a café, now require passes, proof and a QR code. It's like a futuristic movie, but sadly without the hovercraft. Hovercraft would come in handy right now come to think of it, if it meant getting across borders without checkpoints.  
But here we are. Regimented, archived, coded, scannable. Yesterday I spent the endless time refreshing the My Covid Record site to log on to request my vaccine pass, to then download it to my phone to then upload it to my Apple wallet and then print off a hard copy just in case.  
That will only of course get us into venues domestically and will only be valid for 6 months, whereby we'll need a booster shot and a new pass. If we want to travel internationally, we need to apply for a separate vaccine certificate. 
Why they can't be simpler and the same thing is beyond me. We also of course have our vaccine cards, which you would've got when you got jabbed, and I had my very first experience with having to show that yesterday. 
I took my dog to the vet, my daughter came too, and the vet asked us both for proof of vaccination before we came in, so I was able to present our vaccine cards. They took them and wrote down the details to 'log us', and as they did I thought, this is the future, this is the new normal. Being scrutinized, judged, checked, and 'logged'. 
It's a wacky old world. Do you reckon though that we are now so brow-beaten by being so heavily regulated with our movements, that we still just feel grateful to be allowed to move? 
And speaking of movement, those of us who might want to travel in or out of Auckland have to wait almost another month to do so. And when we do, a soft border with random spot checks will be waiting; either you're double vaxxed, can prove a negative test, or you face a one thousand dollar fine.  
But here's where I see potential trouble brewing, and look, call me cynical, but that's a journalist's job, look for where trouble might brew.  
One, the tests have to be back within 72 hours of travel – imagine the bottleneck on testing capacity and turnaround times when you still have a hundred thousand Aucklanders unvaccinated. 
You can just see that being the story – all the tests that didn't come back in time. Does that then become another block for the unvaxxed to actually do anything? So it looks kind in theory, but in reality, they're still screwed.  
And if so, is it just a ploy to hike up vax rates? And who pays for these tests? Taxpayers?  
And two, the Northland border.  
The PM said, 'being mindful of such low vaccine rates in Northland means Police will be working with local iwi on those checkpoints – so that's going to be your choke point.  
The other issue is timeframe proximity to Christmas; everyone travelling just 10 days out from Christmas day, are you kidding me?  
We've got our pass and the ability to move, how much freedom is it really though? 
Take your Radio, Podcasts and Music with you