Kate Hawkesby: Trump will regret how he ended his presidency
Author

Publish Date

Thu, 21 Jan 2021, 6:23AM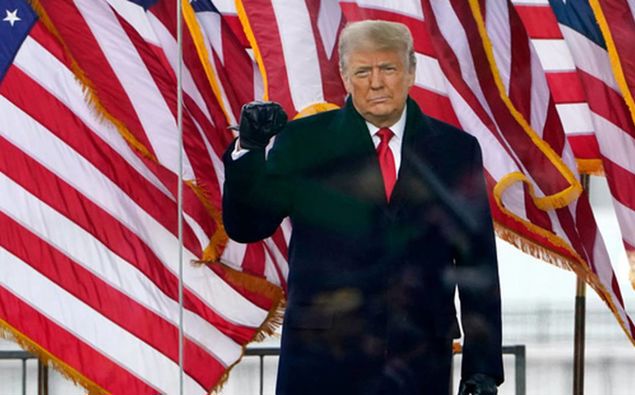 Kate Hawkesby: Trump will regret how he ended his presidency
Author

Publish Date

Thu, 21 Jan 2021, 6:23AM
Well it's all on this morning, unfolding as we speak.
The undoing of President Trump's tenure in the White House, the swearing in of Joe Biden is but moments away.
It's definitely one of the most unusual inaugurations in American history.
The thing about Washington and around the White House and the Lincoln Memorial and the Mall.. it's all so beautiful, so pristine, so stately. When we were there in 2016, you felt like you were somewhere really special.
And I contrast that to what we're seeing now, with armed troops, and roads coned off, and fences with barbed wire on top - it's such a departure from the norm and such a shame really for the new administration that they miss out on a lot of the pomp and parade and pageantry that America does so well, and that that whole area is so perfect for.
But today it's been orchestrated not by event planners so much as the FBI, the military, all preparing for the worst, stripping back attendance from one hundred thousand public tickets available, down to just one thousand.
With all that security they're not taking any chances. It's kind of sad it's come to this. Such a divided country, such a large chasm of pain to heal. I don't envy the new administration's job in trying to bring all that together. I don't know that they can. I don't know that anyone could.
So it's a tricky time for the States and there's a lot at stake. The Trumps have been very hands off, for obvious reasons, they've not taken the defeat well. Trump's not attending the inauguration of course. He's gone to Florida, he left to Frank Sinatra's 'My Way' in the Air Force One chopper earlier this morning.
But it wasn't just official events he missed out on - or chose not to attend - he  didn't do any of the non-official stuff like welcoming the new President or leaving a note either. Melania too avoided any mention of the Biden's in her farewell speech, no White House handover form her.
Hasn't all of this been an interesting case study in manners – or lack thereof. I mean no matter what may or may not have happened to you, in terms of your defeat, there still surely has to be some room for some basic manners? And there's a lot to be said for leaving with dignity.
And what of Trump's legacy too? Did he not want to salvage that as best he could by at least trying to be civil at the end?
Breaking up is hard to do, and President Trump clearly did not want to break up with the White House, or the power, or the office of President. But to pretend it wasn't happening, I think was a mistake, and one I don't think he'll look back on and be proud of.