Kate Hawkesby: Before adults complain about teen binge drinking, those in glass houses?
Author

Publish Date

Thu, 18 Mar 2021, 10:32AM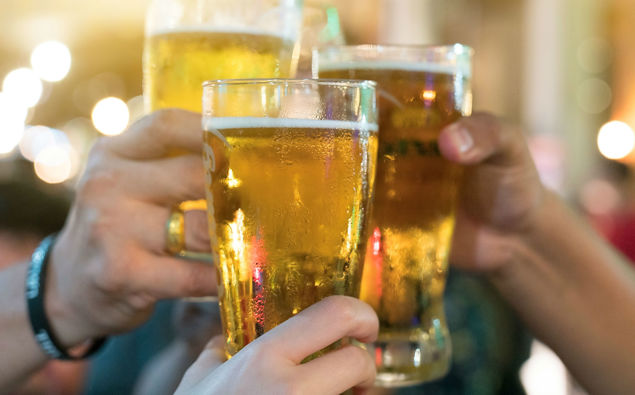 Kate Hawkesby: Before adults complain about teen binge drinking, those in glass houses?
Author

Publish Date

Thu, 18 Mar 2021, 10:32AM
The excitement of the America's cup yesterday saw hundreds of boats and thousands of people hit Auckland's harbour front, and you know what a lot of them were doing? Drinking. Hand in hand with celebration - comes alcohol. It was the same thing for students in Dunedin who were reportedly keeping Police busy with their St Patrick's day celebrations. Apparently students were binge drinking from first thing in the morning.. Police said it's become a day to rival New Years Eve in terms of intoxication. "A siren song for drunkenness in the Southern City", is how one Senior Sergeant described it.
People dressed in green started drinking in the streets from 8am.. the St Paddys day thing is growing in scale Police say, in terms of levels of drunkenness and what time the drinking starts. I mean 8am is early, even for the most hardy student drinker surely? The Police were going to work with students around the parties planned, monitoring drinks in glass – to ensure broken glass didn't end up everywhere. Which is good because a couple of our kids flew to Dunedin earlier this year to DJ at O-week, and said the streets were just a mass of broken glass by the end of the night as people flung empty bottles into the air. Which is nothing short of dangerous.
But young people binge drinking is often what makes the news, despite stats claiming drinking among young people has actually been trending down. In 2001, 34 percent of youth were binge drinking, by 2019, it had dropped to 22 percent. The biggest contributor to this decline was apparently a change in attitude towards alcohol. But although the stats don't lie, one researcher says we should be careful how we interpret them. She says while it's true young people are drinking less, those who do drink are still likely to be binge drinking. So the proportion of binge drinkers, you could argue, hasn't really changed.
It would be easy to assume that Uni students are the biggest contributors to these stats, given a lot of the time their drinking can accompany larrikin type behaviour which makes the news. But equally a house party of non Uni students is likely to have as many binge drinkers surely. They just may not be doing it in the street dressed in green making a racket.
But while a lot of the focus and the news reports are on youth drinking, we probably as a society need to look at what we're role modelling. If you thought students went a bit nuts for St Patrick's Day in Dunedin, you only need to cast your eye at the spectator boats and those around the viaduct for the America's Cup final yesterday, those in the pubs and clubs watching the race.There is a love affair with alcohol in this country, often wrapped around celebration. Now I'm no wowser, but while it's easy for adults to point the finger at students for thrashing the drinks, there is an element here of those in glass houses, maybe not throwing so many stones.