Kate Hawkesby: Stop using press conferences as a time to gloat and give us a plan
Author

Publish Date

Tue, 12 Oct 2021, 8:55am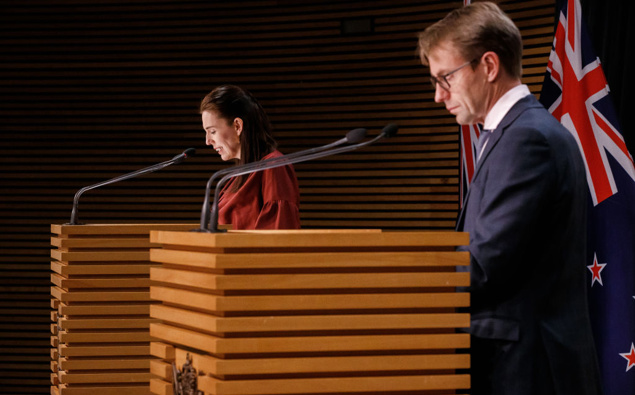 Follow the podcast on
Kate Hawkesby: Stop using press conferences as a time to gloat and give us a plan
Author

Publish Date

Tue, 12 Oct 2021, 8:55am
The only good thing to come out of yesterday is that I won a bet.  
My husband bet me that they'd loosen something or announce something yesterday.  
That they'd throw a bone, announce a target, unveil some details, open something up, name the Northland absconder, something, anything.  
He said there was no way they could just do nothing. There was no way they could keep locking us down at this level with no plan, no detail, no guide. 
I don't know why he keeps over estimating this Government; I knew they'd do none of that. 
I knew they'd leave us languishing because 1) they're out of touch, and 2) they don't have a plan. 
What I didn't bank on was how much high fiving they'd do of their own ability. 
This far into this much farce, how are they still claiming to be successful? To be world leading? Is there anyone out there still buying that crap? Seriously? How are they still milking these press conferences as an opportunity to gloat? It again shows, I guess, how out of touch they really are. 
Schools got a mention, but not a word on the South Island, and nothing on business. How is that even possible? 
How can do you keep delaying the reopening of businesses, with people's livelihoods hanging in the balance? How can you be so devoid of any rhetoric around that? So disconnected from the productive side of the economy, the people who keep this country afloat? How can they be so cavalier with them? Where was Grant Robertson? How does the Finance Minister ignore business here? What message are you sending the business community when you continue to treat them like this? 
My heart breaks for them; we hear from business owners daily, they're at their wits end and they seem to not even be on the Government's radar. Is this Government too distracted by gangs and alleged sex workers? Are they more interested in protecting the lowest common denominators holding the rest of us to ransom? 

The other bizarre aspect of all this is how Wellington-centric the Government continues to be, in terms of not having a clue what it looks like on the ground in Auckland, or understanding there's a South Island still waiting for a plan too. 
The Government continuing to tell us from their cosy Level 2 Beehive theaterette that Level 3 is working well in Auckland, shows how Wellington-centric and out of touch they really are. 
Leaky border, rule breakers, not to mention the place is heaving. People crowded into parks and beaches, bursting bubbles like there's no tomorrow, no distancing, some aren't even masked.  
They don't have a clue how this is going in Auckland, yet they want to keep applying the same approach hoping for a different result.  
Definition of insanity right there. 
What we needed yesterday was to hear two critical things; what's the vaccination target for opening up? And what's the date set to achieve it? But because basic planning and simple respect for voters is beyond this Government, we didn't get either.